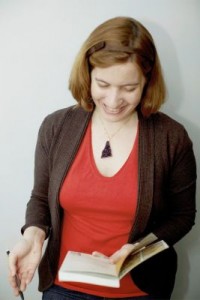 I'm Steph Auteri, a writer and editor who has written about women's health and sexuality for the Atlantic, VICE, Pacific Standard, Salon, Undark, and other publications. I am also the author of A Dirty Word, forthcoming from Cleis Press in Fall 2018. A Dirty Word is the memoir of how I threw myself into sex writing in order to cure myself of what I saw as my sexual dysfunction, eventually realizing I wasn't broken. At the same time, it is an exploration of the ways in which our culture has co-opted female sexuality.
On top of my book and my journalism work, I am a Senior Editor for Simplemost, the Managing Editor of Good in Bed, and a blogger for both Book Riot and the Center for Sex Education.
And while my work is my life, I'm also a mom, a cat lady, a book nerd, and a certified yoga instructor. Feel free to stalk me on Twitter for cat pics, bookish nerdery, and more.