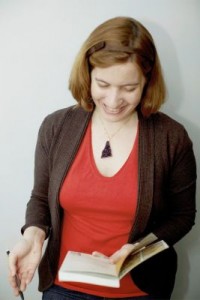 Hey there! I'm Steph Auteri. A freelance writer and editor, I've been writing about sex for almost as long as I've been having it, starting with a college internship at the Boston Phoenix in 2003 (I was a late bloomer).
Since then, I've overshared about my sex life in Playgirl, Time Out New York, American Curves, New York Press, Nerve, and other publications. I've also written sex columns for both the Frisky and howaboutwe.
Over the years, I've collaborated with a number of sex counselors, educators, activists, and researchers, helping them build their brands through quality content marketing. If you're a sexual health or wellness professional in need of the type of word glitter that will help you build your brand and your business, and bring in even more clients, contact me. I can:
collaborate on a book or ebook, either as a co-author or ghostwriter
put together a strong book proposal, with which to approach agents and/or publishers
generate blog posts or website content
edit already-existing content
help you with social media management
In addition to the writing and editing work I do, I am also a Registered Yoga Teacher (RYT-200). I focus on teaching yoga to young professionals struggling with work/life balance and burnout. I'm available to teach at yoga studios, at gyms, and in corporate environments.
Finally, I am the founder of Career Coaching for Word Nerds, through which I offer one-on-one coaching and consulting to freelance writers and other publishing professionals, and also build opportunities in which fellow word nerds can share stories, experiences, tips, and resources with their peers, and connect with established experts within the industry.
My work is my life, but there's more to me than just sex content, yoga, and dashing good looks. So feel free to stalk me on Twitter!