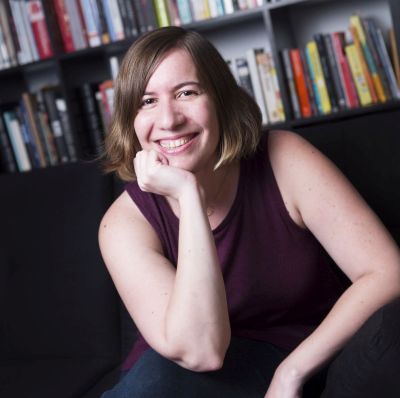 Steph Auteri is a New Jersey-based writer and editor who has written about women's health and sexuality for the Atlantic, VICE, Pacific Standard, Salon, Undark, and other publications. She is also the author of A Dirty Word, forthcoming from Cleis Press in Fall 2018. A Dirty Word is the memoir of how Steph threw herself into sex writing in order to cure herself of what she saw as her sexual dysfunction, eventually realizing she wasn't broken. At the same time, it is an exploration of the ways in which our culture has co-opted female sexuality.
On top of her book and her journalism work, she is an editor for Simplemost, the Managing Editor of Good in Bed, and a blogger for both Book Riot and the Center for Sex Education.
And while her work is her life, she's also a mom, a cat lady, a book nerd, and a certified yoga instructor. Feel free to stalk her on both Twitter and Instagram for cat pics, bookish nerdery, and more. She also has a Facebook author page, and a delightful Tiny Letter called Thunder Thighs.