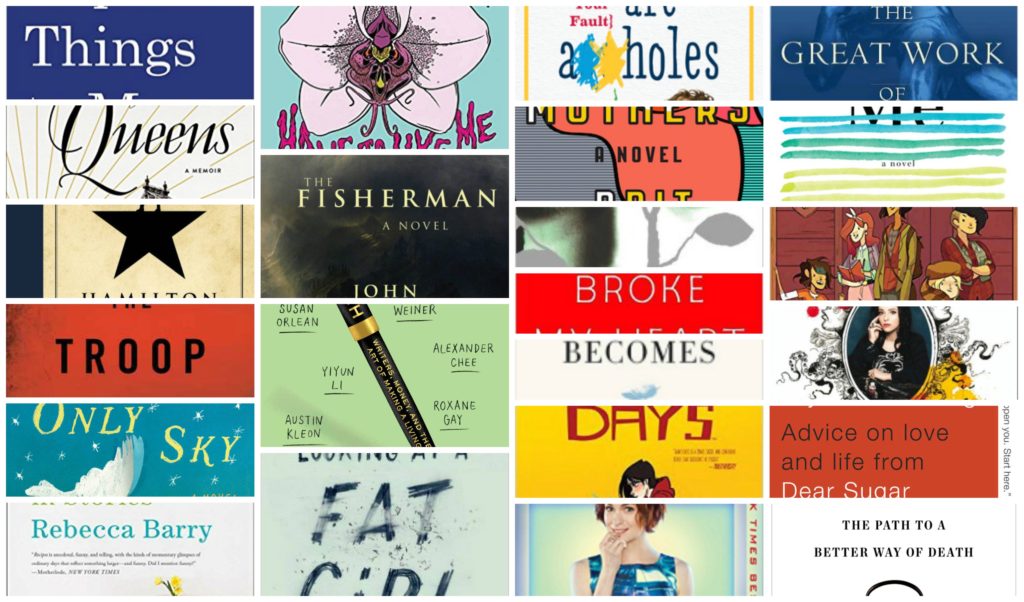 ---
Since last year, I've been tracking my reading on a spreadsheet in order to ensure that I'm reading diversely. And since I started writing for Book Riot earlier this year, I've been exposed to a lot of fantastic reads in genres I may never have taken a second look at otherwise. So as we come to the end of 2016 (with 89 books under my belt!), I thought I'd share my favorites. Because maybe you've been seeing the same old books on the same old best-of lists and you're getting bored.
Some of those books are for sure on this list. But there's other stuff, too. And backlist titles. And re-reads. Basically, this is everything that made me feel all heart-eyes when I read it. 😻 😻 😻
1. The Great Work of Your Life, by Stephen Cope. I've been a fan of Cope since I started practicing yoga about eight years ago and began eating up yoga memoirs like they were candy buttons. I enjoyed the way he showed how the lessons learned in yoga could be taken off the mat. I nominated his latest for my yoga book club at the beginning of 2016, and it's my favorite of his by far. In it, Cope describes the process of looking inward as a means of discovering the life you were meant to live. That may sound like a lot of hooey, but I loved it. So much so that I'm attending Cope's Kripalu workshop of the same title in early 2017. (Squee!)
2. Drawing Blood, by Molly Crabapple. Both brilliant and beautiful, this memoir tackles the art world, the sexualization of women, political activism, and more. I was especially tickled when I recognized the names of people I myself had brushed shoulders with in my time writing about sex positivity in NYC. And as a bonus, Crabapple's text is interspersed with her gorgeous, vivid illustrations. You can see more of her artwork here.
3. You're Never Weird on the Internet (Almost), by Felicia Day. I'm not typically a fan of celebrity memoirs, but I filched this one from my husband (after buying it for him) when I scanned the first couple pages and realized Day should be my BFF. In her book, Day opens up about social anxiety, impostor syndrome, and one terrible bout of depression. What I was most struck by, however, is how she found a supportive community in online and gaming culture, one in which she was able to thrive.
4. Toddlers Are A**holes, by Bunmi Laditan. This book is clearly a terrible vision of my future. It gave me belly laughs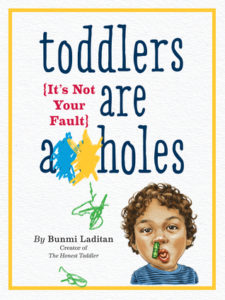 anyway.
5. When Breath Becomes Air, by Paul Kalanithi. I picked this one up because it was billed as being for fans of Atul Gawande's Being Mortal. The posthumously-published memoir of a neurosurgeon who was diagnosed with stage IV lung cancer and forced to reevaluate his purpose in life, this book forces readers to reconsider what it is that makes life worth living. No spoilers, but it had me bawling by the end.
6. 13 Ways of Looking at a Fat Girl, by Mona Awad. Welcome to the first novel on my list. You may have noticed that I'm a fan of nonfiction. 😉 Still, I really dug this skewering of our body image-obsessed culture through the eyes of a character who struggled with her weight over the course of her life.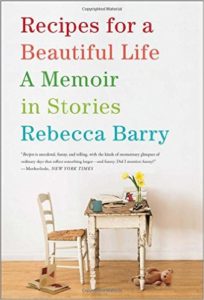 7. Recipes for a Beautiful Life, by Rebecca Barry. Okay. Back to nonfiction. This one was a re-read for me. I picked it up when I was going through a reading slump, because it had so fully charmed me the year before. A memoir in essays, Barry takes us through a time in her life when she is struggling with a new, fixer-upper home, motherly responsibilities, the freelance hustle, a book project that's like pulling teeth, and more. It reassured me in the way it so perfectly illustrated the constant reevaluations and course corrections that need to occur in one's life in order to ensure that one is doing what they're meant to do.
8. Men Explain Things to Me, by Rebecca Solnit. I think I've mentioned this book in almost every damn post I've written for Book Riot on feminism and rape culture and activism. An essay collection on the war on women written by a historian and activist, this book was like a battle cry I wish more people heard, and should be required reading for both men and women.
9. Above Us Only Sky, by Michelle Young-Stone. I don't usually read works of magical realism, but I fell hard for this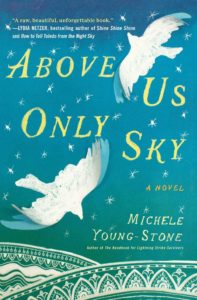 novel about a girl born with wings, and the generations that came before her. It just mesmerized me with its mix of magical realism, storytelling, and survival. I'd definitely put this one in my top five for the year.
10. You Don't Have to Like Me, by Alida Nugent. This memoir in essays is another one in the cluster of the fierce, feminist reads I've been seeing lately. In it, Nugent shows how she grew into the feminist label, making it a perfect primer for feminist noobs, much like Jessica Valenti's Full Frontal Feminism once was for me.
11. The Troop, by Nick Cutter. After reading everything ever by Stephen King and Joe Hill, plus some gems from Mark Danielewski, Josh Malerman, Scott Smith, and Marisha Pessl, I panicked. Who was going to be the new horror writer to deliver me the fix I so desperately needed for my unquenchable horror thirst? Enter Nick Cutter, whose The Troop was his breakout hit. I've now read and enjoyed all of his books (including the one that's not coming out until next year), but this one remains my fave.
12. Hamilton: The Revolution, by Lin-Manuel Miranda and Jeremy McCarter. I listened to the Hamilton soundtrack. I became obsessed. The end. Well. Not really. I bought the soundtrack. It is now in permanent rotation in my car. And then I bought this book, which gives a backstage look at how the musical came into being, and also contains the sexiest picture of Daveed Diggs I have ever seen. I figured this would be the closest I'd ever get to seeing the musical, as tickets are nearly impossible to get. And then I got a ticket. Hamilton: you have been good to me.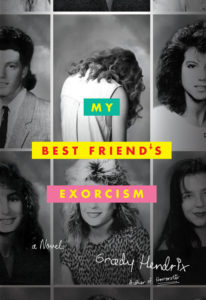 13. My Best Friend's Exorcism, by Grady Hendrix. This book was just… fun. Set in the '80s, the protagonist is a geeky girl with a deep love for E.T. So clearly, I was always going to love this book. But on top of all that, this was horror that was simultaneously silly and creepy, with awesome '80s nostalgia and the strongest, most enduring friendship of all time. Highly recommend.
14. Tiny Beautiful Things, by Cheryl Strayed. This one was another re-read, because I finally got around to watching the movie based upon Strayed's memoir Wild, and it reminded me of how much I admire her writing. This particular book is a collection of Strayed's now-defunct Dear Sugar advice column from the Rumpus (which now lives on as an NPR podcast; she does it with the original Sugar, Steve Almond). This is not your typical advice column, however. Be prepared to be brought to tears. And then come to the realization that you need to buy a copy for every woman in your life.
::pauses to make an applesauce bundt cake with a salted caramel glaze for a party tonight, because the holidays are overwhelming::
15. Scratch, by Manjula Martin. Scratch was an online mag about the intersection of writing and money, and it was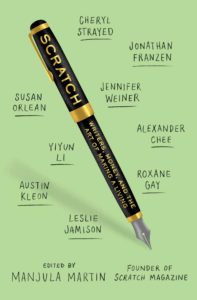 brilliant. This book is its reincarnation, and it is equally brilliant. It contains fantastic insights from Julia Fierro, Cheryl Strayed, Cari Luna, Choire Sicha, Daniel Jose Older, and others, and I'll likely return to it again and again. This one will be available for purchase in four days!
16. Leave Me, by Gayle Forman. I don't usually buy hardcovers but, after reading a free snippet of this book, I couldn't wait. I immediately connected to the narrator, a harried working mom who continues to feel unappreciated, even after suffering a heart attack. And then? She runs away. I won't reveal more, but I will say that this was a fast-paced, gratifying read.
17. Five Men Who Broke My Heart, by Susan Shapiro. I first read this hilarious memoir, and her others, when I took Shapiro's class—multiple times, through both the New School and mediabistro—on freelance writing for NYC magazines and newspapers. In fact, I credit Shapiro with much of my success as a freelancer today. And I enjoy her books as much I enjoyed her classes (they're like a bookish embodiment of the woman herself). Years later, this one—in which she tracks down the five men who broke her heart and finds out what really went wrong—still holds up as a super-fun, fast-paced read.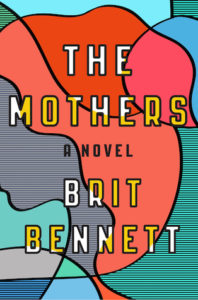 18. The Mothers, by Brit Bennett. You've likely heard of this one, because it received all of the buzz, and some of the actual awards, too. Welp. It was all justified. A novel about grief, love, friendship, and ambition, and the big, fat secret that shapes it all.
19. The Fisherman, by John Langan. Here's another author who successfully scratches my horror itch. A fellow Book Rioter was raving about this one on Slack. I immediately downloaded it, and was not disappointed. A story about two widowers who have found solace in each other's company and a shared passion for fishing, you wouldn't expect many thrills and chills from the initial premise. But I was immediately drawn in by the book's slow build, which effortlessly combines both present-day horrors with a long, horrific tale from the past. Somebody bring me all of the John Langan!
20. Knocking on Heaven's Door, by Katy Butler. This beautiful and thoughtful book is a reported memoir that shines a spotlight on the difficulties of caregiving, the commerce behind modern medicine, and the meaning of a good death. Yes, I'm apparently a morbid weirdo who has a thing for books on end-of-life care.
21. Lumberjanes, Vol. 1, by Noelle Stevenson, Shannon Watters, and Brooke A. Allen. I've never really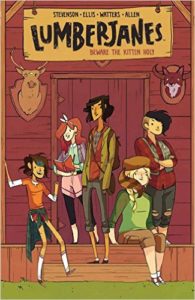 enjoyed comics, but then I spotted this one while at the Strand for a Book Riot Live after-party and I picked it up. Because I feel as if Book Rioters have been raving about it forever. You guys. I now read comics, I think. I immediately fell in love with the artwork in Lumberjanes, the story, the characters, the hardcore lady types. And now I'm discovering an entire world of feminist comics, and I am loving it.
22. The Clancys of Queens, by Tara Clancy. I saw Tara Clancy speak on a panel at Book Riot live—about using humor to tackle difficult topics—and she made me laugh so hard, my stomach hurt and tears were running down my face. She was able to go from hilarious to heartbreaking in an instant. I immediately wanted to be her BFF, but I read her memoir instead because I'll take what I can get. It's about growing up as a woman in working-class Queens, the first book of its type since A Tree Grows in Brooklyn.
23. Giant Days, Vol. 1, by John Allison, Whitney Cogar, and Lissa Treiman. After reading Lumberjanes, obviously I looked up all the lists of feministy comics to read if you love Lumberjanes. As you do. This was one of the series to come up, and it looked like fun, so I put it on my wish list and ended up receiving it for Christmas. I tore through it Christmas night and the following morning, despite extreme holiday exhaustion. It's about three women who start at university and, within three weeks, become fast friends. And then things get weird.
24. Speak, by Laurie Halse Anderson. This one was another Christmas gift, and I read it over the course of one evening mostly because I couldn't stop. It's a YA about a year in the life of a teenage girl who is sinking under the weight of a big, terrible secret: her rape at the hands of a high school senior the summer before. This book was gripping and true and heartbreaking and insightful and I know I'm late to the party but, if you haven't read it yet, you should. You really should. This is the narrator you want to be going on this journey with.
What were your favorite reads this year?