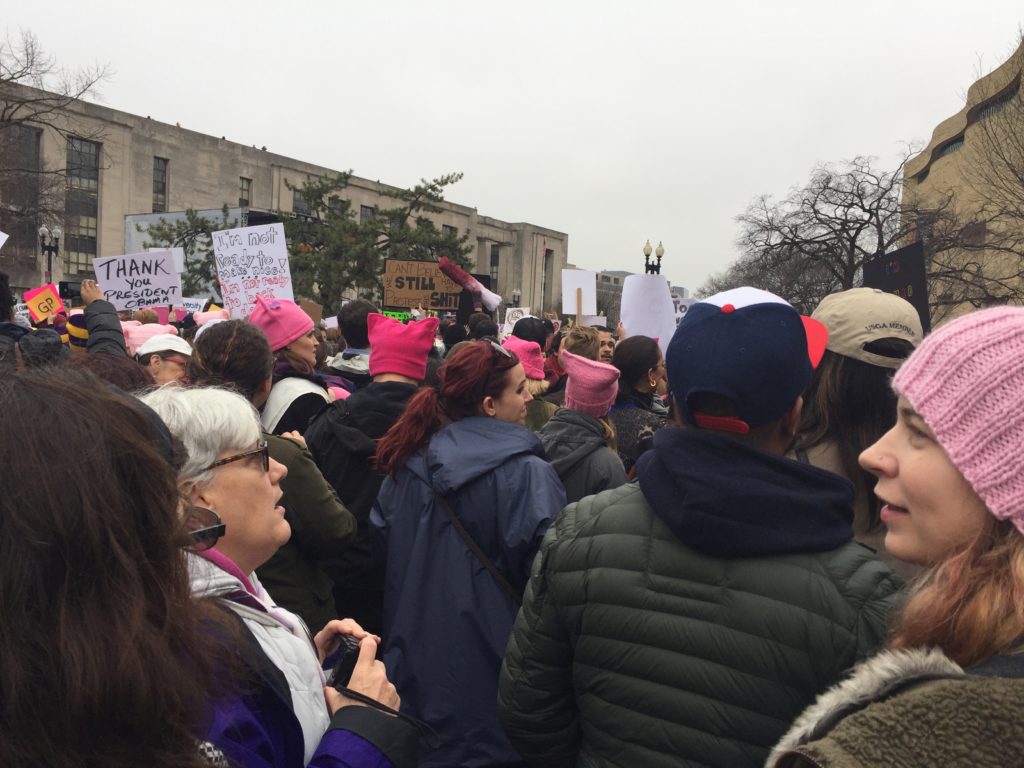 ---
The other weekend, I attended the Women's March in D.C. Soon after the march was first announced, a local woman chartered three buses and started collecting names and checks. I signed up with a friend of mine and started making my preparations, ordering a pair of winter hiking boots, packing wipes and tissues and maps and cheap sunglasses into a cross body bag no bigger than 8″ x 6″ x 4″.
As the march approached, the backlash began. Controversy over whether or not the march was welcoming to those from marginalized communities. Controversy over the emblem that had been adopted in the form of the omnipresent pussy hats. Controversy over what, exactly, could even be accomplished with a march. I started to wonder whether it would have been more effective for me to attend a local march. I continued to make my preparations—ordering my transit card, soaking a bandanna in apple cider vinegar and placing it in a small, plastic sandwich baggie—but I wasn't sure why I was going, and whether or not it was the right thing to do.
On the day of the march, we left from Ridgewood High School in Ridgewood, New Jersey, at 5 a.m. The women (and the handful of men) around me spoke breathlessly of all that had happened lately, and all that had to be done. I felt subdued. I sat with my collapsible water bottle propped up between my feet, my hands clasped. I dozed as I sat there, my chin sinking down toward my chest, the vibrations of the bus thrumming through my body.
The volume of people we saw as our bus pulled into RFK Stadium was humbling. As we stumbled off the bus, stretching our legs and pulling on coats, our eyes were pulled in every direction at once. We walked toward the rally point with approximately one million other women (and men), a sea of hand-knit, pink pussy hats, and clever slogans stenciled onto stiff poster board.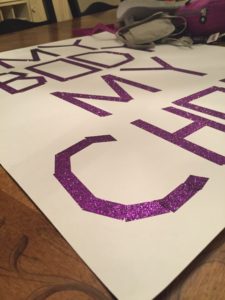 My own protest sign hung limply at my side as I stared around me, struck mute by the spectacle. "MY BODY, MY CHOICE," I'd written out in purple glitter washi tape, wanting to speak to issues of bodily autonomy and consent and the persistent legislation of women's bodies. Around me, other signs screamed out in anger and defiance: "HEAR ME ROAR" and "THIS PUSSY BITES BACK" and "MY PUSSY IS NOT UP FOR GRABS" and "FIGHT LIKE A GIRL." Children were wrapped in American flags, chanting that this was what democracy looked like. Women were dressed up as giant vulvas. One group of women held an enormous, bloody tampon aloft, forcing bystanders to face head on the realities of womanhood, the things we keep quiet, the things we are taught to wrap in silence and shame. But more than fury, what I felt in that crush of people—a group that ended up spilling out into streets adjacent to the originally specified march route—was solidarity. It was exhilarating. It was overwhelming. It was a lot.
There were so many people who poured into D.C. that day, we could barely even march. And in the end, we had to leave the march early in order to get back to our bus on time. When we got back to the stadium, where about 1,800 buses were packed tight in neat, diagonal rows, we shed coats and hats and sweatshirts and passed around homemade cookies and cheap white zinfandel. Then we sank into our seats, armpits sweaty, hair disheveled, exhausted.
The bus's rear end rocked back and forth the entire four hours home. The smell of the restroom—all slow-fermenting shit and urine—rushed out at us, steady and unrelenting. Those of us nearest the restroom held our blankets and sweatshirts over our mouths and noses. One woman doused the room in the lemon juice she'd brought in her bag in case we were pepper sprayed or tear gassed. Another left a paper towel piled with orange peels on a low shelf. Every 10 minutes, I applied strawberry-scented lotion to the skin above my upper lip. I rubbed the cream into the tips of my fingers, held them to my nose, and inhaled deeply.
It was tough to maintain the euphoria we'd felt during the march when we were locked up for four hours with nothing but our nausea and our exhaustion. With our tired muscles and our sore lower backs. With the tight calves we would feel acutely for the next few days.
Because we hadn't been able to finish the march, the day felt almost anticlimactic.
It was hard to think: what's next?
Still, when I think of the march itself—the part of the march during which we were finally able to surge forward through the streets, to spread out and stretch our legs and wave our signs in the air—I come back to the image of this one woman, stretched out atop a low wall, her sign hanging down in front of her. "I have been stalked," her sign said. "I have been beaten," her sign said. "I have been assaulted," her sign said.
There was more but, instead of reading, I looked up into this woman's face and was startled to find her looking back at me. The smile she gave me was small and sad and understanding, and the one I smiled back before I looked quickly down at the ground in front of me was the same.
But even though I was staring down at the pavement, at my sign banging against my ankles, I still saw her. Her lips, tight, as they smiled. Her gaze, direct and open and defiant.
She was unavoidable. Her truth was unavoidable.
The other day, overwhelmed by the bad news coming out of D.C. every damn day, I snapped at my husband that we needed to stop complaining and start putting our time and our money where our mouths are.
It's why I try to fund important news outlets like Pacific Standard and Mother Jones and Rewire. It's why I make donations to organizations like Planned Parenthood and the Southern Poverty Law Center. It's why I volunteer my time to the Center for Sex Ed. It's why I've started teaching Writing as Advocacy classes.
It's why I marched.
But speaking out about the issues around which we are often silenced is important, too.
As Los Angeles singer MILCK wrote in her song "Quiet"—which she performed at the march with an impromptu a cappella group—"I can't keep quiet … a one-woman riot…"
Small, solitary acts can feel useless. They can deflate you before you even get going.
But if we all succumb to that mindset, nothing will ever get done.
What does your one-woman riot look like?