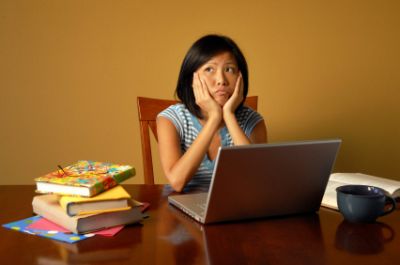 When my literary agent first offered me representation the other week, I tried to play it cool. I told her I was thrilled she was so into my book idea. I told her I'd have to touch base with another agent who also had my full proposal. Then I hung up the phone, my hands shaking, and started to cry.
My husband's response: "You have weird reactions to things."
Thanks, Michael. Thanks a lot.
I swear, you guys. They were happy tears. I'd wanted to be an author since the age of 5, and this was huge leap forward for me.
Only a week or two later, though, I was depressed.
I've been focusing a lot of my energy lately on personal projects. Over the summer, I ghostwrote and edited an ebook in only two months. In November, I did a shit-ton of content creation for an advertising client. I also did a slew of freelance articles and blog posts. But after that, feeling I finally had time to breathe, I spent a lot of time developing my starter kit and then promoting it. I also developed a book proposal and started querying agents. I did all this at the general exclusion of actual paying work (despite totally knowing better) and, by late February, my bank account was dangerously low. I felt like a failure, and I suggested to Michael that I just be his trophy wife going forward.
When I mentioned this to my fabulous writing partner, whom I am completely and neurotically dependent upon, she sighed. "You do this every time, Steph," she said. "Every time you accomplish something big, you get into a slump only a week or two later."
She reminded me that I'd managed to pay off my credit card debt in January, a feat that had taken me about three or four years to accomplish. She mentioned that I'd just written and launched my starter kit, which had led to over 100 percent growth in my mailing list. Then she mentioned that I'd just landed a literary agent. "This is something you've dreamed of your entire life," she said, "and now you feel like a failure!?"
She had a point.
It made me think of an essay I'd just read in the March/April 2012 issue of Poets & Writers*, on the post-publication blues. In it, author Kim Wright writes about an affliction common among debut novelists: the tendency to fall into a paralyzing depression after their book's publication date. "…getting what you've always said you wanted, finally reaching that single enormous goal. It can all be a little… depressing," she writes. She's talking about becoming an author (and you should check out the essay in full yourself; it's fantastic), but I feel it can apply to any large, personal success.
Lyz (the aforementioned writing partner) said she thinks it's because, upon accomplishing something, we immediately ask ourselves: What's next?
I'd take that a step further and say that, in addition to wondering what's next, I also often feel as if the stakes are raised. I worry about making the wrong next move, not living up to others' expectations, not moving forward, falling flat on my face.
I warned you I was neurotic.
But I can't be the only one. That P&W article wouldn't exist if I was. So tell me:
Have you experienced the post-success slump? If so, what did you do to get back in the saddle?
*I totally just typo'd P&W to read Pets & Writers… a magazine I would definitely subscribe to if it existed. Get on it, people.