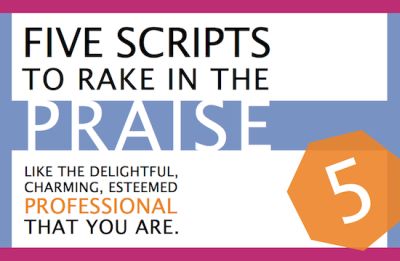 Still trying to build up your freelance biz? There's (probably) no need to drop your life savings on a slick advertising campaign, or on glossy, high-priced direct mail marketing. Over the years, time and experience have shown that word-of-mouth marketing is best.
Sure, I've broken into new markets by cold querying and social media marketing. But word-of-mouth marketing is still how I connect with the majority of my coaching clients. It led to my inclusion in the Young Entrepreneur Council's inaugural group of members. It's the primary reason I was asked to be a panelist on that ASJA sex writing panel in the spring. And it's led to numerous writing and editing projects over the years.
You may believe that word-of-mouth marketing is out of your hands (and to some extent, it is). But if you're looking to build legitimacy for your business, you can still use those satisfied clients to your advantage in a more deliberate way.
I'm talking testimonials, people. And all you have to do is ask for them.
Maybe you feel weird about asking your clients to talk you up. Maybe you figure that — if they really liked you — they'd do it on their own.
And they might.
But if you straight up ask for testimonials (and you ask for them using the types of thought-provoking questions that make for the most effective testimonials), you can then use them on your website, in your e-newsletter, in your email signature, on your blog… wherever you think they'll be most visible to your target client.
And these solid endorsements from others will show those still hesitating to open their wallets that you have a proven track record of solving problems just like theirs.
So how can you score those eye-catching testimonials? Promotional wordsmith Alexandra Franzen makes it easy with her latest info-product: Five Scripts to Rake in the Praise.
Remember when I offered those freebie email templates you could use for asking your boss the tough questions? (Questions like Can I telecommute? and Will you hate me if I resign?)
Alexandra's Five Scripts is sort of like that. Except way prettier. And with templates for multiple testimonial-gathering situations. Such as:
confidently requesting a testimonial from a current client
prompting your client with the types of questions that make for the most effective love notes
scoring a belated testimonial from a long-ago client
requesting advance praise for a soon-to-be-released product
taking previously written praise and spreading it among your advocates and fans
And like Alexandra herself, the scripts are bold and colorful, including such turns of phrase as "your words of support are like solid gold for my business" and "with wiggly anticipation." (Seriously. This Alexandra chick is my kinda wordsmith.)
You can send out these scripts word for word… or you can use them as jumping-off points, allowing them to inspire you to new heights of writerly radiance that smack of your own huggable personality.
If nothing else, these scripts will stand as shining examples of what can be accomplished with top-notch copywriting.
Alexandra's Five Scripts to Rake in the Praise is available for only $15 [not an affiliate link; I just think this product is quality and cool], but one lucky Freelancedom reader will receive it for free. Just leave a comment below with the five adjectives you wish your clients would use to describe you. (Example: Relatable. Honest. Funny. Empathetic. Looks like Zooey Deschanel.)
OR.
If you're more interested in Alexandra's Five Scripts to Fill Your Client Docket, leave a comment below describing your dream project/client, because I have one of those to give out as well.
Dream big, word nerds! Dream big.*
* I will be excepting entries through midnight on Thursday, December 22. I will email the winners on Friday, December 23.
Related: Want to Work Remotely? How to Ask the Tough Questions