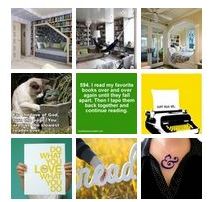 I know it seems as if all I do lately is futz around on various social media platforms.
But I swear to you. I'm getting shit done.
It's just that…
I'm always looking for new and fun ways to build my brand, and to build my word nerd community, and I've been seeing various small businesses do interesting things online lately.
My latest obsession?
Pinterest. (Yeah, you and everyone else, Steph.)
Would it up my cool factor to tell you I've already been using Pinterest for about a year now in order to collect photos of pretty kitchens? Or does that just make me seem even dorkier?
Either way, I've decided to create a Pinterest board for word nerds, on which I can pin fun word nerd quotes, letterpress prints, lust-worthy reading nooks, and more.
Are you on Pinterest, too? If you come across anything particularly word nerdy, pin it with the #wordnerd hash tag, so I can easily find it and share it with the rest of the word nerd community!
My blogging buddies, and other people across the web, have been going gaga over how Pinterest can be used to drive traffic to your blog or business.
Have any of you guys been using Pinterest in new and interesting ways as a part of your business model?
Related: Freelancing and Yoga Go Together Like… Nutella and Pound Cake, The LinkedIn Lowdown: How To Pump Up Your Social Media Campaign, How To Avoid Social Media Fatigue in 5 Easy Steps, Using Twitter to Achieve World Domination (in Your Field)