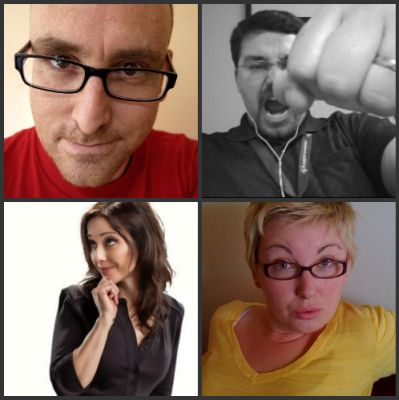 I believe that, in order to succeed, you should always be learning… even after you yourself have achieved expert status (a dubiously subjective term in itself).
Which is why I still take classes when I can, devour self-help books like I devour Peppermint Patties, and continue to seek out new wisdom from around the web.
In fact, when I went through a career coaching certification program back in 2009, I requested my own career coach. Her input was invaluable as I worked on creating a business that played to my strengths.
Since then, I've come across a handful of experts I just can't get enough of… people who excel in areas I'm weak in… people who rock the house at what they do.
So. While I can help you create a strong query letter,  guide you through the ins and outs of the publishing world, and give you the kick in the ass you need to get the publishing career you want, I should probably point you in the direction of those who shine in the areas where I can still use a bit of help.
So as long as you pinkie swear that you'll come back to me for all the word nerd wisdom you need, I'll reveal the top 4 experts I love to bits. (Seriously. No clicking through until you pinkie swear.)
1. Darren Rowse of ProBlogger
I launched Freelancedom after becoming a full-time freelancer back in 2007. I didn't know much about blogging at the time (unless you count the angsty ramblings I posted to LiveJournal), so I searched the web for an expert and found Darren Rowse of ProBlogger. He taught me everything I know about creating online content, and even wrote the book on blogging.
I continue to read his blog and follow him on Twitter, and was thrilled to see that he recently released the book on blogging… for your business. If you're hard at work building your own freelance business, I suggest you pick up a copy of the brand spanking new ProBlogger's Guide to Blogging for Your Business.
2. Jenny Foss of JobJenny
I can't quite remember where I first came across Jenny Foss of JobJenny (On Twitter? On a friend's blog?), but I was instantly smitten. I loved her sass and her style and her larger-than-life personality. I ate up her every bit of irreverent wisdom, and featured her in my newsletter approximately five trillion times.
I even hired her to redo my resume (one of my weak spots), at which point she created something so amazing I almost wanted to make out with myself. I urged my husband to hire her as well and, with his new resume, he was hired on the spot, and for more than what he had asked for. I urge you to pick up a copy of her ebook, To Whom It May Concern: Or, How To Stop Sucking at Your Job Search.
3. + 4. Dave Navarro (The Launch Coach) and Naomi Dunford (IttyBiz)
I'm listing these two together because I fell pretty hard for them simultaneously, when watching their How To Failproof Your Business video series. I've since taken one of Dave's business workshops (so. effing. good.), and recently bought Dave and Naomi's How to Launch the **** Out of Your Ebook. Their advice is always solid and specific… exactly what you need when you're moving from beginner to AWESOME.
So who are your favorite experts? As awesome as you are, who do you turn to when you hit a roadblock?
P.S. A few years ago, I experimented with GoogleAdSense here on Freelancedom. Google made it easy to execute, but I didn't like the way those ads cluttered up my page, and I really didn't love how untargeted they were. So I took them down. But I'm working on making my blog a more integrated part of my business plan, and that plan involves advertising income. So this post includes affiliate links, and you can now find affiliate ads for all my favorite experts in the sidebar. I'm going to promise you now: I will never throw up an ad for someone I am not batshit crazy for. This blog is all about giving you the resources you need.