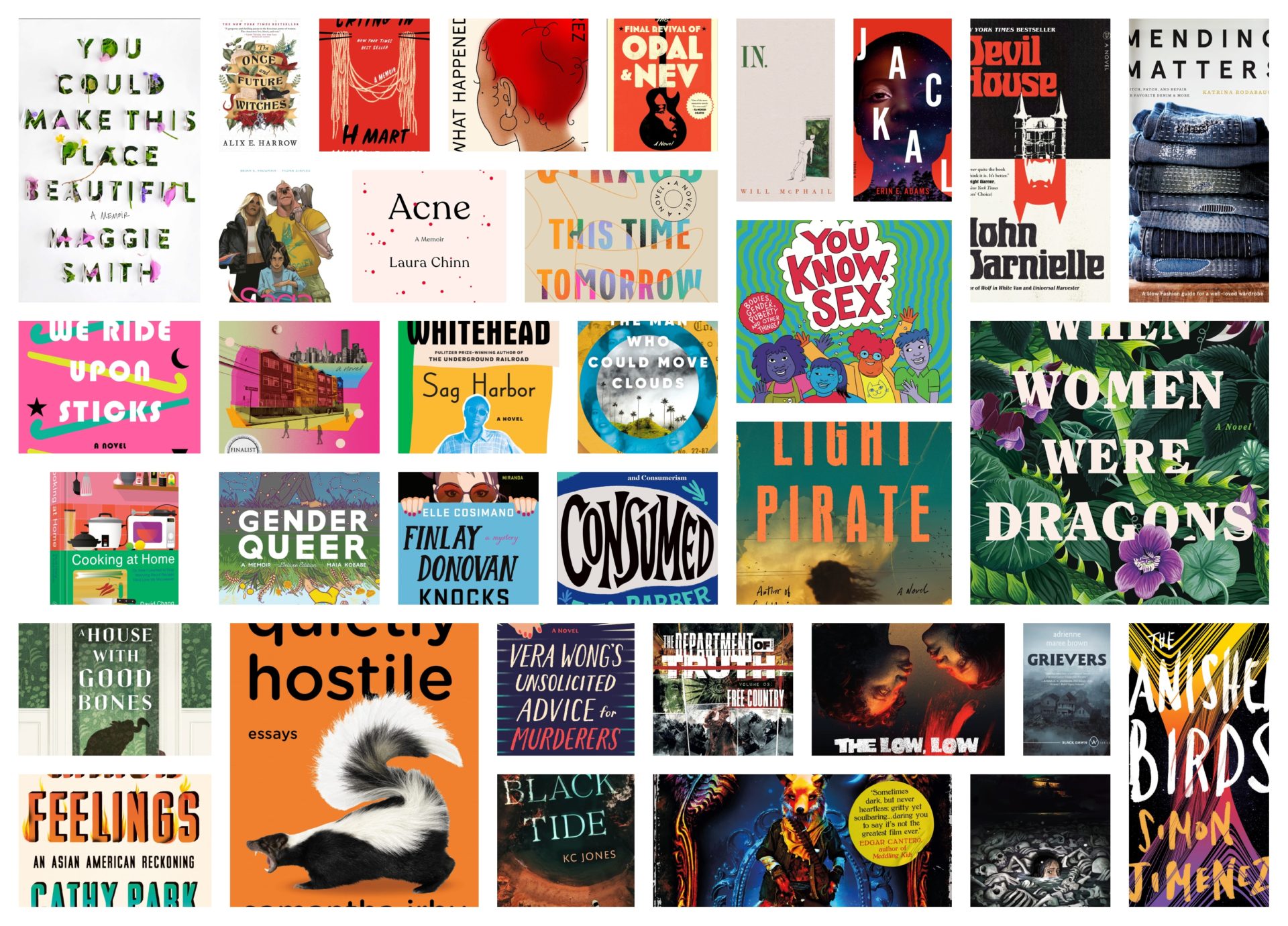 I just looked back at my favorite reads posts from 2020 and 2021 and, my god, I've been a downer, haven't I?
This past year hasn't been much better. But when I hone in on my literary life, I have to acknowledge that things have actually been looking up.
Back in March, I attended my very first AWP conference, appearing on a panel about female friendships in literature, doing a book signing at the Hippocampus Magazine booth, and engaging in general conference shenanigans. I doubt I'll attend again, but I came out of the experience with a brand new writing group.
In August, I returned to my favorite writing conference, HippoCamp, for the first time since 2019. It felt like coming home.
At around the same time, I stepped in as the interim Editor in Chief of the Feminist Book Club blog and that, in addition to my work as Essays Editor at Hippocampus, really drove home to me that I quite enjoy editing others' work.
Hmm… what else? I got bumped up to Senior Contributor status at Book Riot. I found out that a piece that was published last year was listed as a Notable Essay of 2021 by Best American. And even though I find that I rarely have the time for my more creative, personal work, I had personal pieces published in under the gum tree and The Offing. This in addition to my regular writing for Book Riot, the Feminist Book Club, Pure Romance, Giddy, and the Rewire News Group.
Good stuff, right?
And on top of all that, I enjoyed some damn fine reads.
On that note, here are the 34 books (out of the 173 I managed to read to completion) that made life worth living this past year. Hope you find some new reads in there for your own TBR pile.
1. Grievers by adrienne maree brown. In this slim book, Detroit is overrun by a mysterious illness in which people become frozen, trapped in a moment of extreme grief, stuck there until they waste away and die. Black folks and those living in poverty seem to be targeted by this illness and, soon, it seems clear that residents have been abandoned by the larger world, written off in an attempt to protect the rest of the country. It is a quiet novella, and one that is deeply sad, even as it deftly highlights the ways in which we continue to abandon certain large swaths of the population.
2. Crying in H Mart by Michelle Zauner. I received this one in a Feminist Book Club box, which is how I've discovered a number of books it never would have occurred to me to read, but which I've ended up loving to bits. This memoir is about what it was like for Zauner to grow up Korean-American, finding her place in the world even as she distances herself from her family's roots. But when she learns that her mother has cancer, she's forced to reckon with the legacy her mother has left her, one rich with history and language and food.
3. Brown Girls by Daphne Palasi Andreades. This one — written in the first person plural, in a Greek chorus of brown girls who are growing up in Queens, New York — is a stunner. It's about everything from childhood to female friendships to race to the tug-of-war between ambition and loyalty. It is about home. It is about family. It is about being a woman. But most of all, it is about being a brown girl who is struggling to find her way in the world.
4. We Ride Upon Sticks by Quan Barry. Y'all. I have written about this book so many times this past year. Another Feminist Book Club pick, this book is about a field hockey team that turns to witchcraft in order to turn around a long-running losing streak. But all of this is secondary to the individual story of each girl: who they are, how they relate to each other as friends, and how they relate to the world around them. Have they really harnessed black magic in order to become a winning team? It's hard to say. But I don't mind not knowing. Learning about this tight-knit group, and about their everyday lives, is far more interesting.
5. The Nice House on the Lake, Vol. 1 by James Tynion IV, Alvaro Martinez Bueno, and Jordie Bellaire. This series began in June 2021 and the second arc just concluded. As far as I'm concerned, the series can go on forever, because I am loving it. In this horror-sci-fi hybrid, Walter gathers his friends together for a getaway at a gorgeous lake house. But when they lose contact with the outside world, Walter reveals himself to be an alien who's been living on Earth for years, tells his friends the world as they know it is gone, and instructs them all to settle in for the long haul…because they can't leave. Things only get darker from there and I am so curious as to where this story will end.
6. Devil House by John Darnielle.  In this novel, a true crime writer moves into a house in order to investigate the double homicide that occurred there years ago. In doing so, he hopes to find the makings of his next book. The narrative skips around between his time in the house, the events he's investigating, and the events that inspired his first true crime hit. By the time we reach the end, the protagonist is forced to question what he owes those about whom he writes. What version of the truth are we privy to as true crime readers? Which parts of it — what shades of nuance — are lost? I found this book to be fascinating.
7. Finlay Donovan Knocks 'em Dead by Elle Cosimano.  This comedic thriller is the sequel to Finlay Donovan Is Killing It (mentioned in last year's roundup), which is about a single mom whose life is a mess when, on top of it all, she's accidentally hired as a contract killer. The first book was a trip, and the sequel continues to bring all the LOLs. In this installment, our protagonist learns that someone wants her ex-husband dead. And sure, he may be a dirtbag. But does she want her children to be fatherless? She spends the book trying to find out who's behind the hit on her ex and, well, things just keep getting wackier.
8. Minor Feelings by Cathy Park Hong. I brought Minor Feelings to AWP, using it as a security blanket as I navigated my first in-person event in over two years and, my god, I have never had so many strangers approach me to rave about a book. It's well-deserved, though. Hong is the daughter of Korean immigrants, and in this blend of memoir and cultural criticism she's created, she deftly explores what it means to be Asian American in a country that fosters internalized shame and self-hatred.
9. The Vanished Birds by Simon Jimenez. This sci-fi epic spans lifetimes, laying out a sprawling tale you can get lost in. The novel covers everything from space travel and colonization to ambition and regret to the importance of found family. At the heart of this story is a mute child who may carry the power to cross light-years in the blink of an eye, enabling space travel to be completely revolutionized. But at what cost?
10. Black Tide by KC Jones. In this sci-fi/horror blend, a man and a woman who've made a mess of their lives spend one passionate night together… only to wake up to a world that's in shambles. The point of view shifts back and forth between these two main protagonists as they fight for their lives in the midst of what's become a living nightmare. I don't want to reveal too much more, but the product page describes it as a cross between Cujo and A Quiet Place.
11. In by Will McPhail. This graphic novel really blindsided me this year. Written by McPhail, a regular New Yorker cartoonist, In is about a young man who has trouble connecting with others. It's only when the protagonist learns to speak from the heart that the world around him really comes alive. There was such a relaxed sense of humor throughout this book that I was taken by surprise when things got heavy. It felt right, though, and because of the character development that had come before, I actually burst into tears. McPhail's use of color is also masterful. It's used sparingly to represent the bursts of emotional connection the protagonist experiences in the midst of a life that feels, on the whole, very black and white. Do pick this one up.
12. Acne by Laura Chinn. This hilarious memoir is by and about a woman who has suffered from a terrible case of self-esteem-crushing cystic acne her entire life. But it's also about so much more than that. It's about growing up mixed-race in a broken home where things just seem to get worse and worse. It's about making it through each day in spite of multiple obstacles and weathering the fallout from multiple tragedies. It's about how, through it all, Chinn maintains her sense of humor, continuing to push forward until, by the end, she finds a sort of redemption.
13. Consumed by Aja Barber. I'm starting to feel like this list is an advertorial for the Feminist Book Club because, yes, you guessed it, here's another one of our monthly picks. This one gave me an in-depth look at the negative impact fast fashion is having on people, on the environment, and on our wallets. It then explored how we might engage in fashion (and consumption in general) in a way that's more sustainable and less terrible.
14. Cooking at Home by David Chang and Priya Krishna. I bought this cookbook in an attempt to become a more intuitive cook and, eventually, I became obsessed with it, so much so that I wrote an entire Book Riot post about it. As I write in that post, I think what I most appreciate about this book is how it taught me to tune in to the flavors I most enjoy and to lean into those preferences by getting creative with what I add to each dish. I'm still very much beholden to my recipes, but sometimes I get a little wild with them.
15. The Shadow Glass by Josh Winning. Oh, this book. This one's a dark fantasy in which puppets from a cult favorite fantasy film come alive, threatening London and, perhaps, the world. I picked it up because the cover was giving some strong Dark Crystal vibes and, hell, the premise sounded like fun. I was quickly sucked into the world of the shadow glass, in which fox-like creatures battle hideous monsters for control over a world that seems to have emerged from the power of imagination alone. Unfortunately, their world is dying and, well, if you've ever read or watched The Neverending Story (my favorite book when I was growing up), you likely know where this is going. In the end, what delighted me so much about this book wasn't the story itself. Rather, it was all the references to my favorite flicks from the '80s, and the fact that the book itself was an overt homage to those pieces of pop culture. And it was a love letter, too, to those who love those pieces of their past. The cons. The cosplay. The artist with a secret hideaway filled to the brim with '80s memorabilia. I was practically squeeing throughout the entire book.
16. Sag Harbor by Colson Whitehead. This book is a coming-of-age story centering around a Black teen whose family spends each summer out in Sag Harbor, a small village in the Hamptons. The book tackles issues of race and class, but is also rife with casual '80s references including Pixy Stix, D&D, and New Coke. Love the nostalgia factor! I really enjoyed Whitehead's tale of a young man coming into his own.
17. Gender Queer by Maia Kobabe. In this graphic memoir (which recently came out in a new, deluxe edition with a foreword by Nate Stevenson, whom I also love), Kobabe uses matter-of-fact language paired with vibrant illustrations to show how important it is to see yourself in the world around you. And there are so many possible selves. As someone who does advocacy work around sex ed, I really appreciated the way ey shared eir gender journey.
18. The Final Revival of Opal & Nev by Dawnie Walton. (::coughcough:: Feminist Book Club pick ::coughcough::) This novel about the rise of an interracial rock duo in the '70s, their sensational breakup, and the dark secrets unearthed when they try to reunite decades later was SO well done. Written in the style of an oral history undertaken by a music journalist who just so happens to have an interesting connection to the eponymous Opal, this book was impossible to put down.
19. This Time Tomorrow by Emma Straub. I picked this one up because it gave serious Sliding Doors vibes, and I love narratives that question the choices we make, and how they reverberate throughout our lives. In this quirky time travel book, a woman living a meh sort of life falls asleep on the eve of her 40th birthday and wakes up on her sweet sixteen. But where many time travel stories are about adventure or romance or saving the world, in this one, our protagonist comes to see her father — and their relationship — in a new light.
20. The Light Pirate by Lily Brooks-Dalton. Holy crap with this book. In a not-too-distance future, in a Florida that is slipping further into the ocean, a woman gives premature birth in the midst of a hurricane, dying soon after. Throughout the rest of the book, we watch the daughter she left behind grow up in a world in which infrastructure — and society — progress through a slow collapse. This book was a heartstopper, and it stayed with me long after I finished the last page, likely because of how terrifyingly possible its story is.
21. You Know, Sex by Cory Silverberg and Fiona Smyth. I love and trust all the work Cory does, and this sex ed book didn't disappoint. In a bright graphic format that features four middle schoolers, this book covers everything from puberty to power to pleasure to how to be a decent human being. And lots more. I really love their framing of everything from sex to joy to justice.
22. The Man Who Could Move Clouds by Ingrid Rojas Contreras. The man referenced in the title of The Man Who Could Move Clouds is a curandero, a healer who uses natural and spiritual remedies to help others. He's also the author's grandfather and, though it's frowned upon within their Colombian culture for women to practice these healing arts, he teaches his daughter — the author's mother — everything he knows. The magical power that's woven throughout their lives? It simply exists as a part of their culture, though there are some who believe in it and others who think it's nonsense… or a curse. The author? She believes. And when she, her mother, and her sisters all have the same dream, she becomes determined to relearn her family history and the history of these gifts.
23. When Women Were Dragons by Kelly Barnhill. In Barnhill's feminist fantasy, women pushed to lead lives of submission instead become dragons in what is known as the Mass Dragoning of 1955. Because this transformation is tied to women's bodies, it is considered a taboo topic. (What else is new?) But one young woman who was left behind has questions. Caught between a mother who refuses to acknowledge the existence of dragons (but who seems to have magical powers of protection?) and an aunt who transformed into one, our young narrator struggles to find her way in a world that doesn't seem invested in her or in her dreams. Will she push back against the constraints that have been forced upon her, embracing her own inner dragon? I loved the hell out of this book.
24. A House with Good Bones by T. Kingfisher. This one isn't out until next year, but I have to tell you about it. I mean, after I read the egalley, I legit felt compelled to write the author a fan letter. I just go wild over how well-crafted her characters are, and how funny they can be in the midst of literal horrors. Anyway. Kingfisher is the pen name for Ursula Vernon, the author behind various brilliant children's books, including the Hamster Princess series. In this forthcoming adult horror, our protagonist is staying with her aging mother, who seems to have transformed overnight into a meek woman who is frightened in her own home. What's at the root of her fear? Hold on, because this one's a wild ride.
25. The Once and Future Witches by Alix E. Harrow. In this historical fantasy, the year is 1893 and, well, witches have been wiped out. As the book's description goes, if a modern woman wants any measure of power, she must find it at the ballot box. But when the three previously estranged Eastwood sisters find themselves together again in the town of New Salem, they begin to question whether the suffragist women's movement might be better served by becoming the witch's movement. The metaphor connecting the struggles for both political power and magical power might not be in any way subtle. But I certainly didn't care, and I don't think you will either. The Once and Future Witches is such a fun and exciting read.
26. The Low, Low Woods by Carmen Maria Machado and Dani. [cw: sexual assault, gaslighting] Machado writes speculative fiction and nonfiction, and I adore her work. So when she ventured into the world of comics, another favorite medium of mine, my body was ready for it. What I didn't expect was how dark and, frankly, upsetting this story would become. Still, Machado kicks ass at dark and upsetting in a way no one else does. At the beginning of The Low, Low Woods, we're introduced to two friends and their hometown of Shudder-To-Think, Pennsylvania, a former mining town where strange and unexplainable occurrences go unexplored. But when El and Octavia wake up in the movie theater with no memory of the past two hours, things come to a head. El wants to know more. Octavia wants to forget it ever happened. This push and pull is at the heart of what's wrong in their small Pennsylvania town.
27. Jackal by Erin E. Adams. In this supernatural thriller, a young Black woman very reluctantly returns to her predominantly white hometown for her best friend's wedding. But when her friend's daughter disappears in the woods on the night of the wedding, our protagonist is thrust back into memories of a trauma she experienced when she was just a teen. Skeptical of the cops' ability to find the girl, she takes matters into her own hands and soon discovers an unsettling secret: Children have been going missing in these woods for years. All of them Black. All of them girls. But who — or what — has been taking them?
28. The Department of Truth, Vol. 3 by James Tynion IV, Martin Simmonds, Aditya Bidikar, and Dylan Todd. In what I've found to be the mindfuckiest mindfuck of them all is the comic series The Department of Truth. In this series, a government agent is recruited by a mysterious organization that appears to be monitoring all the greatest conspiracy theories throughout history, from Bigfoot to flat-Earth theory to the '80s-era Satanic Panic. To what end? Unclear. But it appears that if enough people believe in a thing, it could actually become real. What might the ramifications of such a possibility be? The third volume has been my favorite so far, though the fourth one just released, so we'll see…
29. Saga, Vol. 10 by Fiona Staples and Brian K. Vaughan. I've written about Saga in the past. It's a sci-fi/fantasy series known for being a gateway comic for people who think they don't like comics, and my buddy Melissa passed it along to me back when… I first began reading comics. I was immediately sucked into this space opera about two lovers from long-warring extraterrestrial races who are forced to flee the authorities from both sides as they struggle to care for their newborn daughter. Then, after nine volumes of the series, they went on a three-year hiatus. This year, they finally returned and it feels so good to return to that universe.
30. You Could Make This Place Beautiful by Maggie Smith. Another one that's not out until next year, this lyrical memoir is an exploration of the author's divorce: the time leading up to it, the time when she was in the thick of it, and the time that came after. I found much to relate to in its parsing out of what makes a loving, supportive marriage, and the narrative arc ends in a place of beautiful hope and happiness. Smith is a poet, so you know the language is gorgeous.
31. What Happened to Ruthy Ramirez by Claire Jimenez. Sorry, but you're gonna have to wait for this one, too. Cycling between the points of view of a mother and two of her daughters, this story is about a third daughter who went missing when she was just 13, and what happens when her sisters think they spot her, 12 years later, on a raunchy reality show. It's a fun, big-hearted and, ultimately, heartbreaking read about family and loss and so much more.
32. Mending Matters by Katrina Rodabaugh. Once the pandemic allowed me to unapologetically abandon the constraints of hard pants, my entire wardrobe shifted to revolve around leggings and jeggings purchased off Amazon. Then I took up embroidery and I read Consumed (see its entry up above) and I began to feel guilty about my cheap-apparel-from-Amazon habit. My most recently purchased jeggings are high-waisted (read: comfortable), the perfect dark wash blue, and flattering as heck. But they're also cheaply made and, at the moment, both pairs I own have holes in the exact same spot: the corner of the back right pocket, where I hook my thumb to pull them up. Enter this book, which has me excited to mend my cheap-ass jeggings and participate more fully in slow and sustainable fashion. The techniques offered in this book are simple and accessible and fun.
33. Vera Wong's Unsolicited Advice for Murderers by Jesse Q. Sutanto. I'm marathon-reading a bunch of advance copies now that we're at the end of the year, so buckle up for a few more reads you're going to have to preorder. Sutanto is the author of Dial A for Aunties, which was one of my favorite reads last year (like, top two?), so I literally squeed when I was approved for this egalley. Like, Christmas clearly came early? In this fun, comedic thriller, the aging owner of a tea shop in the middle of San Francisco's Chinatown comes downstairs one morning to find a dead body in her establishment. Unimpressed by the police department's approach, she decides to take matters into her own hands. Sutanto still brings the LOLs. Like, all of them.
34. Quietly Hostile by Samantha Irby. Another 2023 title, this one is, like, the eleventy billionth essay collection by blogger and comedian Samantha Irby, and she is in top form. I think what I enjoy most about Irby's work, beyond the wacky humor, is how it feels like she just… gets me. Whether writing about incontinence or masturbation or having the palate of a 7-year-old, I am right there with her. It helps that we're the same age. And about that humor. The other day, I was reading this on my Kindle in the few quiet moments before yoga class began, and I laughed out loud. I mean, I laughed out loud constantly while reading this, but usually in the comfort and safety of my own home. I try to be more restrained in public. But I just. couldn't. help it. Preorder this book so you can also enjoy uncontrollable laughter.
---
All of the links above are affiliate links to my Bookshop.org shop. In 2021, I set up a storefront on Bookshop.org that allows you to simultaneously support both Guerrilla Sex Ed and your favorite indie bookshops. Ten percent of every purchase made through my shop goes to me and GSE, and another 10% goes to support independent bookstores.
My main storefront contains several different lists, including one that incorporates all the titles in the GSE database. But you can find the entirety of this list right here, in case you want to bookmark it and dip into it again at another time.
If you see value in what I do, I'd love it if you made your book purchases through my shop.