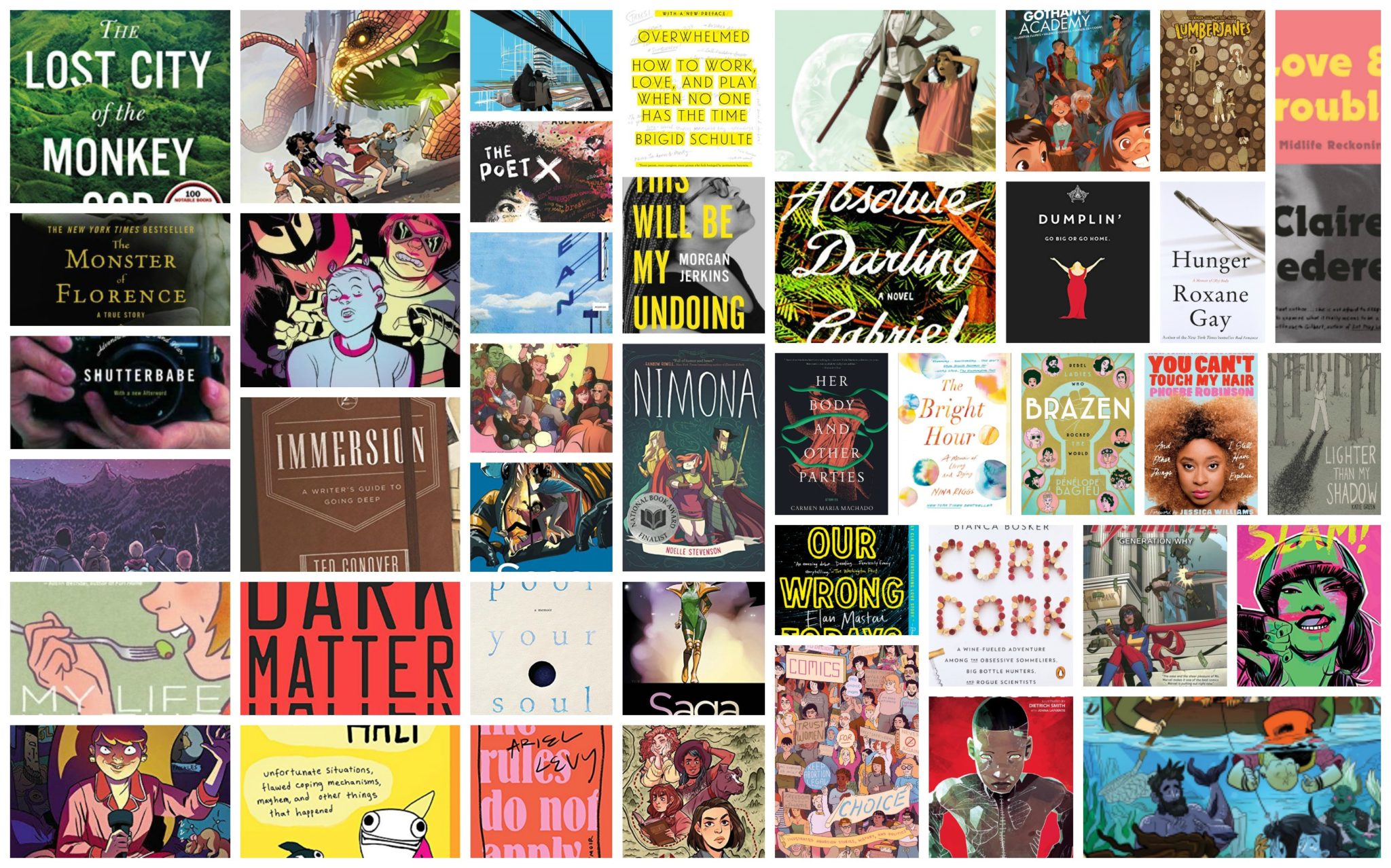 ---
Since becoming a contributor to Book Riot last year, my reading horizons have really broadened. There was a time when I could place most of my books into three main categories: horror, freelance writing how-tos, and sex. But when I put together my first favorite reads roundup last year, it was clear that things had shifted. I had become more open to celebrity memoirs, magical realism, YA, comics… all things I'd assumed weren't for me. And because of Book Riot's diversity requirements, I'd also moved away from reading 95 percent white chicks.
This year, I read even more (if you can believe it), and I also tracked some of the trends in my reading. Out of 157 reads this year (not including single-issue comics), I read a whopping 69 trade paperbacks (multiple comic issues collected into a single volume), with some additional graphic memoirs, novels, and anthologies sprinkled in (clearly, my new favorite medium). Next runner-up? Literary fiction (21), followed pretty closely by memoir (19). And then there was a general smattering of essays, horror, how-tos, narrative journalism, sci-fi, self-help, short stories, thrillers, and YA.
The authors I read were more diverse, too. I read 65 percent women, 24 percent authors of color, and 18 percent queer authors. Slowly, I'm trying to boost the number of books I read that allow me to learn more about the experiences and perspectives of others.
So which books did I lose my shit over?*
1. The Rules Do Not Apply, by Ariel Levy. Back in the day, I read Levy's Female Chauvinist Pigs and tumbled my way into a sex writing career. I mean, that's simplifying (I actually read Levy's Female Chauvinist Pigs, interviewed a sex party hostess to get her take on Levy's concept of "raunch culture," got invited to a party, and then tumbled into a sex writing career, the seeds of which had already been planted during a college internship reviewing porn and sex toys), but it's safe to say that her work had an impact. Eleven years later, I got myself an e-galley of Levy's memoir, about a woman trying to have it all (wife, child, successful career) and learning—in the end—that she had no control over any of it. It was a wildly different book from her previous one but, as with FCP, I felt a strong connection to its contents.
2. Dumplin', by Julie Murphy. I couldn't help falling in love with this YA heroine, a self-proclaimed fat girl whose mom happens to be beauty queen royalty in her restrictive small town. Willowdean Dickson has sass to spare, and plenty of self-confidence, too. But when she starts crushing on a private school jock—feelings that appear to be mutual—she comes to doubt herself.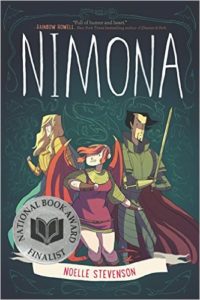 3. Nimona, by Noelle Stevenson. I became familiar with Stevenson's work through Lumberjanes, the comic that got me started reading comics. Then my buddy Ren was all, "Have you read Nimona?" and I was all, "What is this Nimona of which you speak?" and I didn't yet realize how huge my comic obsession was about to become, but I picked up a copy anyway. The eponymous Nimona is a feisty shapeshifter who begs a not-so-evil villain to let her be his sidekick. The heart is in the friendship that develops between them. The surprise is in the dark turn it all takes. According to news reports back in 2015, this webcomic-turned-real-actual-book-on-my-shelf is getting an animated adaptation (!). But more recent reports say the release date isn't happening until 2020. Which means that, until then, I'll just have to satisfy myself by staring at the gorgeous paperback cover on my bookshelf, caressing it lovingly, dreaming of things yet to come.
4. Shutterbabe, by Deborah Copaken Kogan. I read an article Kogan wrote for the Nation on sexism within the publishing world and the battle she fought with publishers over her book's title and cover design. I knew I needed to read more from her, both because her writing was fantastic and because her life as a photojournalist sounded fascinating. Her memoir was absolutely gripping.
5. Overwhelmed, by Brigid Schulte. I picked up this book because, as the work-at-home, refuses-to-pay-for-child-care mother of a toddler, I am officially overwhelmed. This work of narrative journalism tackles the science behind play and leisure, our preoccupation with busyness, the pitfalls of being the primary caregiver, and more. It was a fascinating read.
6. You Can't Touch My Hair, by Phoebe Robinson. A collection of personal essays that tackle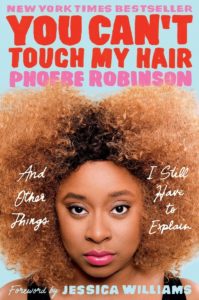 issues of race and identity, Robinson's book gave me a glimpse of racism as it is experienced by marginalized populations, in much the same way Claudia Rankine's Citizen did. Except that, where Citizen was lyrical, a breathtaking work of prose poetry, Robinson's book is knock-you-on-your-ass hysterical. Which makes sense, considering that Robinson is a stand-up comic with a resume that includes Late Night With Seth Meyers, Broad City, and her WNYC podcast 2 Dope Queens.
7. Lumberjanes, by Noelle Stevenson and others. As mentioned above, Lumberjanes was the comic to start it all for me. I continued bingeing the trades this year, and the stories and characters remained delightful. (As a reminder: Lumberjanes is an all-ages comic about a group of besties at a sleepaway camp for hardcore lady types who happen to regularly find themselves in supernatural situations.) My favorites this year were Volume 4 (Out of Time), Volume 5 (Band Together), and this super-cute Lumberjanes / Gotham Academy mashup. I'm now all caught up, all the way through Volume 7. TBH, though, I'm sad that Stevenson left the Lumberjanes team.
8. Rat Queens, Vol. 1: Sass & Sorcery, by Kurtis J. Wiebe and Roc Upchurch. I waffled over whether or not to include this one. Back when I read it in early 2017, I immediately went gaga over the comic's D&D-inspired crew of filthy-mouthed, ass-kicking killer maidens for hire. But then I read of the series' troubled history, and I haven't really been able to enjoy it since. In an age of #MeToo, it's hard to know what to do with the work of those who are later revealed to be truly awful. I wrote a bit about this struggle, within the context of comics, here.
9. Immersion, by Ted Conover. I've been a fan of immersion journalism for quite some time now. So I was excited when I saw that Conover—a practitioner of the form himself—had published a how-to for other budding immersion journalists. It was a helpful, engaging read, and one I'll likely turn back to again and again.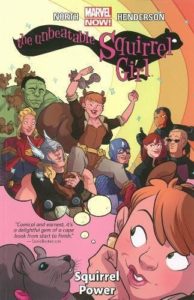 10. The Unbeatable Squirrel Girl, by Ryan North, Erica Henderson, etc. While Lumberjanes started me reading comics, Squirrel Girl made me a full-on, rabid, cosplaying fangirl. When I first read Squirrel Power (the first volume) back in April, I went through a clear progression of what the hell…, directly into this is odd… and finally landed squarely in NOTHING HAS EVER BEEN MORE AWESOME THAN THIS. So… what the hell is The Unbeatable Squirrel Girl? She's a Marvel superhero with the powers of squirrel and girl who can totally kick butts, but who also regularly disarms her opponents with openness, empathy, and common sense. My favorite volumes since the first one include Squirrel You Know It's True (Volume 2) and I Kissed a Squirrel and I Liked It (Volume 4). I hope this series—with its fantastic sense of humor and oodles of charm—never ever ever ever ever ever ends.
11. Hunger, by Roxane Gay. This lyrical memoir shattered me. I was already a fan of Gay when I read this, having devoured both Bad Feminist and An Untamed State. So I already expected to love this latest about her complicated relationship with her body. But her raw honesty around the way sexual violence affected this relationship, and around the ongoing love/hate she feels, took this book to a whole new level.
12. Cork Dork, by Bianca Bosker. I'm a fan of both food writing and immersive journalism, and this book rang both of those bells for me. In Cork Dork, Bosker leaves her journalism job behind (well, mostly) in order to learn the ways of the sommelier. Along the way, she also meets up with smell scientists, participates in competitions, and delves into the many nuances of flavor. I had a feeling I'd enjoy this one, but I didn't realize how much. Bosker's personality shines here, plus the book is filled with facts and speculation that made me go: "…huh."
13. Lighter Than My Shadow, by Katie Green. I picked up a review copy of this book when I was at BookExpo America, and it was the heaviest thing in my tote bag, but it was worth it. This graphic memoir of the author's struggles with an eating disorder and with depression, and of the sexual abuse that played a part in all of it, shook me.
14. Hyperbole and a Half, by Allie Brosh. Yes, I'm fully aware that everyone but me already read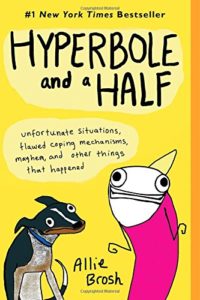 this book back in 2013, when it first came out. But back in 2013, I wasn't really reading books with a graphic component, and now I'm playing catch-up and, well, yes, I know. It's embarrassing. For those who haven't read this, Hyperbole and a Half is a humor memoir that grew out of Brosh's webcomic / blog, and it tackles tough issues such as laziness, adulting, and depression. This is a description that does not do the book justice, but just know that I couldn't stop laughing / painfully relating the length of the whole damn thing. So much so that, after I returned it to the library, I bought my own copy and read it again.
15. The Woods, Vol. 1, by James Tynion IV and Michael Dialynas. I picked this one up from the library at a time when I was desperately seeking out more horror comics (because why not combine my favorite genre with my favorite medium?). It's about a high school in Wisconsin that is inexplicably transported to a universe light years away, which is an interesting premise on its own. But I was really taken by surprise because the author and illustrator don't pull their punches—at all—on the consequences of ending up in a world that is strange and wild and violent.
16. The Bright Hour, by Nina Riggs. For fans of When Breath Becomes Air, this memoir is about a 37-year-old mother of two who is diagnosed with breast cancer. Within a year, she learns that her cancer is terminal. Read this for an exploration of how to live when you're staring your own mortality in the face. And also for the ugly crying.
17. Love and Trouble, by Claire Dederer. Seven years ago, when I was just starting to be obsessed with yoga, I read Dederer's yoga memoir, Poser. This memoir is soooo not that memoir. Rather, it is about Dederer reconciling the young woman she used to be with the woman she has become in midlife. I was struck almost immediately by how Dederer just casually reveals the worst parts of herself to the reader, as if she has zero fucks left to give. What stood out for me by the end—and what stayed with me—were lessons in sexuality and power, and in a deep wanting to be wanted.
18. All Our Wrong Todays by Elan Mastai. This book is about a bumbling, heartsick fool who goes back in time and screws up the future. Even more compelling is the fact that the screwed-up future—far inferior to the life our protagonist had been leading—is…well, the life we're leading right now. This book was a fun read that had me searching for more alternate timeline stories. Be warned, however, that there is a problematic story line containing an instance of sexual assault, which has ruined the book for many people or has, at the very least, caused them to give the author some serious side eye.
19. Dark Matter, by Blake Crouch. I know. This book pubbed over a year ago. What have I been doing instead of already reading it? I'm sorry. I don't read a lot of sci-fi. And I only picked this one up because I had accidentally fallen into a sci-fi time travel streak (see above). And thank god I did, because I really enjoyed this novel, in which the protagonist wakes up into a life that is not his own, as the man who may or may not have discovered how to access the multiverse. Whatever has happened, it forces him to confront the roads not taken, in addition to the ways in which he has perhaps taken his family for granted. It gets a little out of control at the end there, but I suppose the possibility of infinite universes is also out of control. So I'll allow it.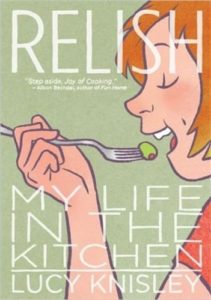 20. Relish, by Lucy Knisley. Charming. That's the word I'd use to describe this graphic memoir of life, family, and food, from a woman whose parents are a chef and a gourmet. Each chapter is bookended by an illustrated recipe, and you'd better believe that I tried them out while also pretending that I was the author, having lived the author's life.
21. SLAM! by Pamela Ribon and Veronica Fish. I picked up this comic about two roller derby noobs because I am someone who wishes she was cool enough to do roller derby. In reality, when I am on roller skates, I move in much the same way as an elderly person with a walker trying to cross a busy street. Reading this comic is literally the closest I can ever get to understanding roller derby life. Whether you're into roller derby or not, it makes for a fun, colorful read.
22. The Lost City of the Monkey God, by Douglas Preston. Looking back, it's clear to me that the Indiana Jones films were racist as hell, and that Indy treated the women in his life like poop. But when I was young, I dreamed of being just like Indiana Jones, unearthing ancient artifacts steeped in mystery. Preston's book—an epic piece of narrative journalism—scratches that same itch. It's the story of a lost city, an ancient curse, and a medical mystery that reads like the most exciting piece of adventure fiction ever.
23. The Monster of Florence, by Douglas Preston. After reading Preston's Lost City, I looked at his backlist and picked up this one, a true crime / narrative journalism mashup that follows the twisty-turny investigation of a serial killer in Florence, Italy. Highly engaging, and also interesting in the way it lends perspective to the more recent Amanda Knox case.
24. Comics for Choice, edited by Hazel Newlevant, Whit Taylor, and O.K. Fox. I contributed to this comic anthology's Generosity campaign, which raised money for the National Network of Abortion Funds. I was way excited when the hard copy finally arrived in my mailbox. It's gorgeous and educational and has a kick-ass resource section.
25. Her Body and Other Parties, by Carmen Marie Machado. A delicious mix of horror, speculative fiction, and feminism, Machado's short stories play with the question of what it means to be a woman, and who is allowed to claim ownership of women's bodies. Most refreshing of all is how unapologetic her protagonists are when it comes to their own sexual appetites. In a world that lays claim to women's sexuality while simultaneously shaming them for it, Machado's world of sexually voracious women was one I wouldn't mind living in, despite the terrors that tended to lurk in dark corners.
26. Victor LaValle's Destroyer, by Victor LaValle and Dietrich Smith. This awesome comic is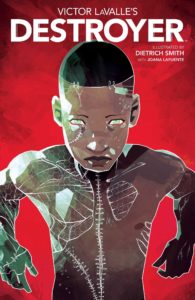 brought to us by the same, capable horror writer who brought us The Devil in Silver, Lucretia and the Kroons and, most recently, The Changeling. Moving, however, from straight prose to the comic form, LaValle has joined up with a great team to tell the story of Frankenstein's last descendant, and the lengths she'll go to in order to reconnect with the son she lost. I picked up the first issue of this one at a time when I was desperate for horror comics. In addition to its interesting premise, it ably combines horror and humanity and racial discourse with vibrant artwork and a compelling, complex narrative.
27. My Absolute Darling, by Gabriel Tallent. This is another one I feel conflicted about including. This novel, about a young girl pulling away from her abusive father, is gorgeously written, and incredibly raw. But I was also deeply disturbed by the gratuitous nature of a number of scenes, and found myself wondering what right this male author had to embody this character, and these experiences, in exactly this way.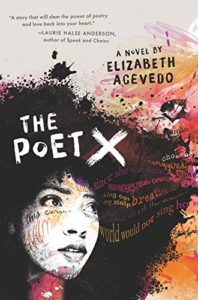 28. The Poet X, by Elizabeth Acevedo. This young adult novel written in verse is told from the point of view of a young woman growing up in Harlem, grappling with her place in the world, afraid to speak her truth. The poetry that fills the book? The contents of her notebook (and also, if you'll allow me to be corny, the contents of her heart). She eventually discovers slam poetry and gains the strength and courage to speak her truth out loud, in an incredibly powerful way. Though I wasn't sure how I'd feel about the format, I was ugly crying by the end. One more thing: You won't be able to pick this one up until March. Sorry! Maybe preorder it?
29. Mean, by Myriam Gurba. I felt disoriented for the first few paragraphs of Mean. But I soon eased into the lyrical rhythm of Gurba's writing, the beauty of her words contrasting sharply with the ugliness of her experiences, and with her brazen honesty around her interior world. This book is billed as Gurba's coming-of-age journey as a queer, mixed-race Chicana. But it is so much more than that. It is an exploration of sexual violence, guilt, culpability, race, misogyny, and homophobia. It is an accounting of what we owe to the world, and what we owe to ourselves. And the glimpse she gives us into the inner workings of her mind is refreshingly honest. No one else could have told this story the way Gurba does. The casual coarseness with which she describes various violations, unwilling to pretty up her experiences for readers. The ways in which she reveals her deepest, darkest thoughts. The way in which she is unapologetic about protecting herself from additional harm. We've been needing this.
30. Brazen, by Penelope Bagieu. When this book first floated into my consciousness, I saw "graphic novelist" and I saw "rebel ladies who rocked the world" and I raised my hand and I said, "Me me me me me!" This is another book that doesn't come out until March, but I'm excited for you to see it because you're going to meet so many amazing ladies you've probably never even heard of before.
31. This Will Be My Undoing, by Morgan Jerkins. When I saw advance buzz about this book, I knew it was going to be awesome as hell, so I begged Harper Perennial to send me a review copy. A memoir in essays that tackles issues of race and gender in a refreshingly open and honest manner, it was everything I was dreaming of. It pubs at the end of January, but you should probably just preorder it now.
32. Poor Your Soul, by Mira Ptacin. It took me awhile to get to this memoir. About a pregnancy the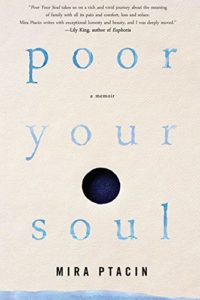 author is forced to terminate due to the revelation that the fetus is carrying a number of birth defects and will have no choice of surviving outside the womb, I just didn't know if I could emotionally handle it. And it is tough to handle. But it is also beautifully written and magically layered and, really, everything a memoir should be.
33. Saga, Volumes 3–6, by Brian K. Vaughan and Fiona Staples. The Saga series is known for being a gateway comic for people who think they don't like comics. Still, because I don't read much sci-fi or fantasy, I didn't necessarily feel compelled to read it as I was having my Great Comic Awakening™. Then my buddy Melissa passed along the first volume and I have since been sucked into this, well, saga (described on the Image Comics site as a space opera / fantasy) about two lovers from long-warring extraterrestrial races who are forced to flee the authorities from both sides as they struggle to care for their newborn daughter. Who occasionally narrates the series. I… did not expect to be into this. But here I am, having just binge-read volumes 3–6 in the lead-up to Christmas. Volumes 7 and 8 are waiting beside my bed.
34. Ms. Marvel Vol. 2: Generation Why, by G. Willow Wilson and Adrian Alphona. This isn't your classic Ms. Marvel. No. In the latest iteration of the Ms. Marvel story, the superhero is a Muslim teenager from Jersey City who may or may not also be an Inhuman. In this coming-of-age comic, Kamala Khan takes up the cloak of Carol Danvers and sets about protecting those in her hometown.
35. Misfit City, by Kirsten "Kiwi" Smith, Kurt Lustgarten, and Naomi Franquiz. Finally, on a list that is nearly 50 percent comics, my last awesome read in a year of awesome reads was the brand new Misfit City, an all-ages comic that doesn't play coy about its Goonies-esque roots. Which is why I picked it up in the first place. After all, who of my generation did not dream of finding a treasure map and embarking upon an adventure that eventually led them to a pirate ship filled with gold, in turn leading to the most "I told ya so!" moment ever with their parents? In this comic series, a group of girls living in a town known for its own cult kids' adventure movie from the '80s (wink wink, nudge nudge) find a treasure map and embark upon an adventure that…well, you'll see.
Which books are you totally outraged were excluded from this list? 😉
*Just a note that this is not a list of books that published in 2017, but rather a list of books I read in 2017.