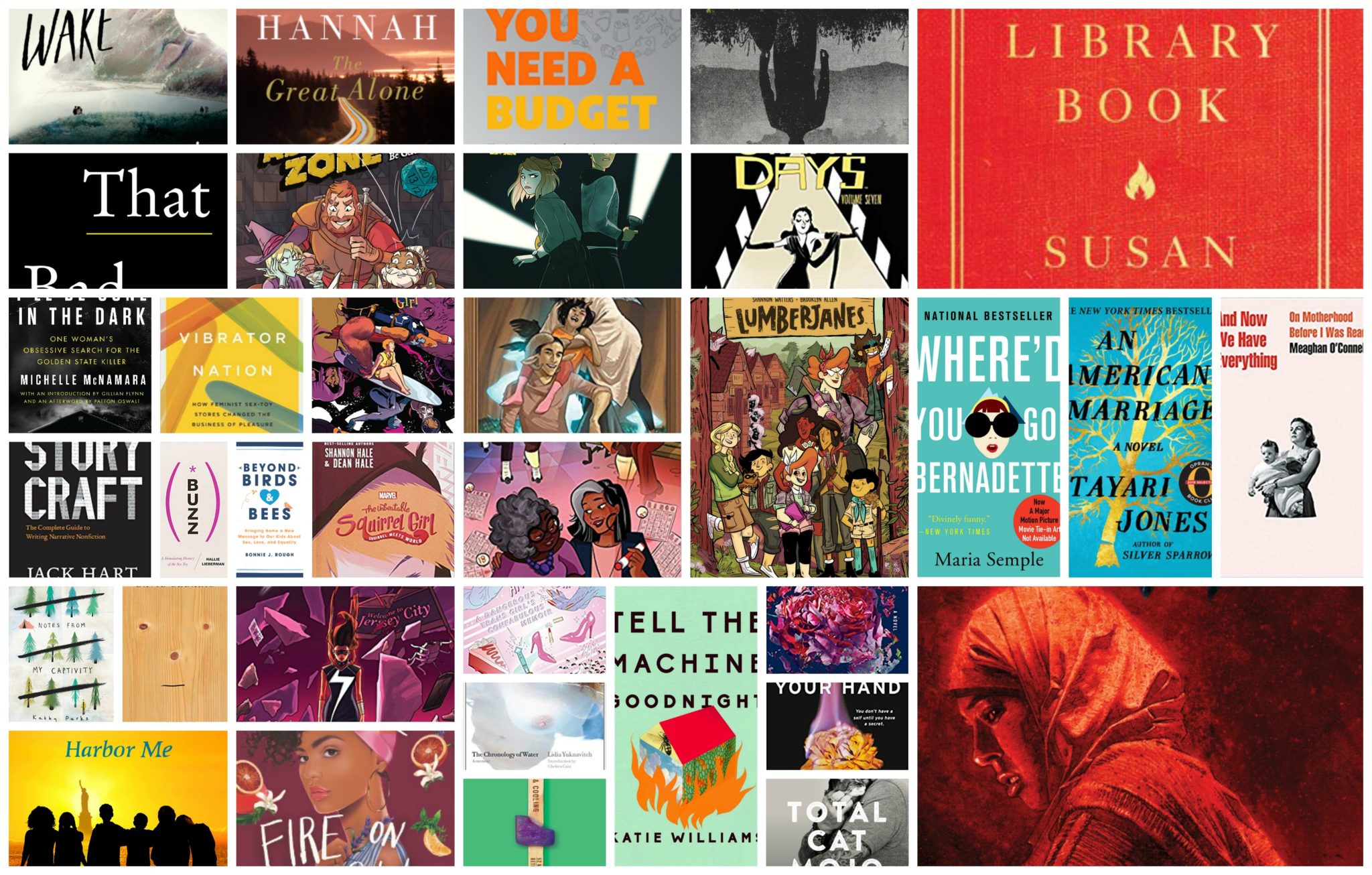 ---
Though I didn't read as many books in 2018 (135 to last year's 157), this was still quite the bookish year. At BookExpo America back in June, I stood on line so I could bask in the glory of longtime personal heroes Barbara Kingsolver and Susan Orlean, scoring signed copies of their latest books, Unsheltered and The Library Book. Later that day, I also got myself a signed copy of Bingo Love and chatted with the author, Tee Franklin, about the awesomeness of my favorite local comic shop, East Side Mags. I hit up New York Comic Con in October, too, where I tried not to squee too hard when I met Pornsak Pichetshote, the author of Infidel, one of the best horror comics out there.
I also became a more regular user of my local library, and even joined the Friends of the Library, where they immediately tried to crown me as their queen (the President). I was having none of it, but I'm still eager to do what I can for one of my favorite bookish places.
But the biggest excitement for me was the publication of my own book, A Dirty Word. Not only did I fulfill a lifelong dream by finally becoming a published author, but the launch of my book gave me an opportunity to connect with a number of awesome people (Linda Kay Klein, Christine Wild, JoEllen Notte, Lynn Comella, etc.) and visit several awesome places (Bluestockings and Cafe con Libros). The high point, however, was doing a joint event at Watchung Booksellers with Emily Nagoski, the author of Come As You Are. Chatting about female sexuality and rape culture with another personal hero of mine in a room filled with some of my favorite people was a dream.
Since my book launch, I've felt a bit depleted, unsure of what to write next. But that's why I'm turning to books again. If anything can inspire me to create something amazing, it's the brilliant works of others.
So what inspired me this year? Read on for my 35 favorite reads of 2018.
1. Total Cat Mojo, by Jackson Galaxy. Is it weird that I'm kicking off my best-of list with a self-help book for cat owners? Maybe? This year was a rough one for me. The two cats I've had and loved for the past 18 years passed within a few months of each other. I was devastated. I'm still devastated. We still have Lusa, though, so I appreciated this engaging and accessible cat care guide from the star of Animal Planet's My Cat From Hell.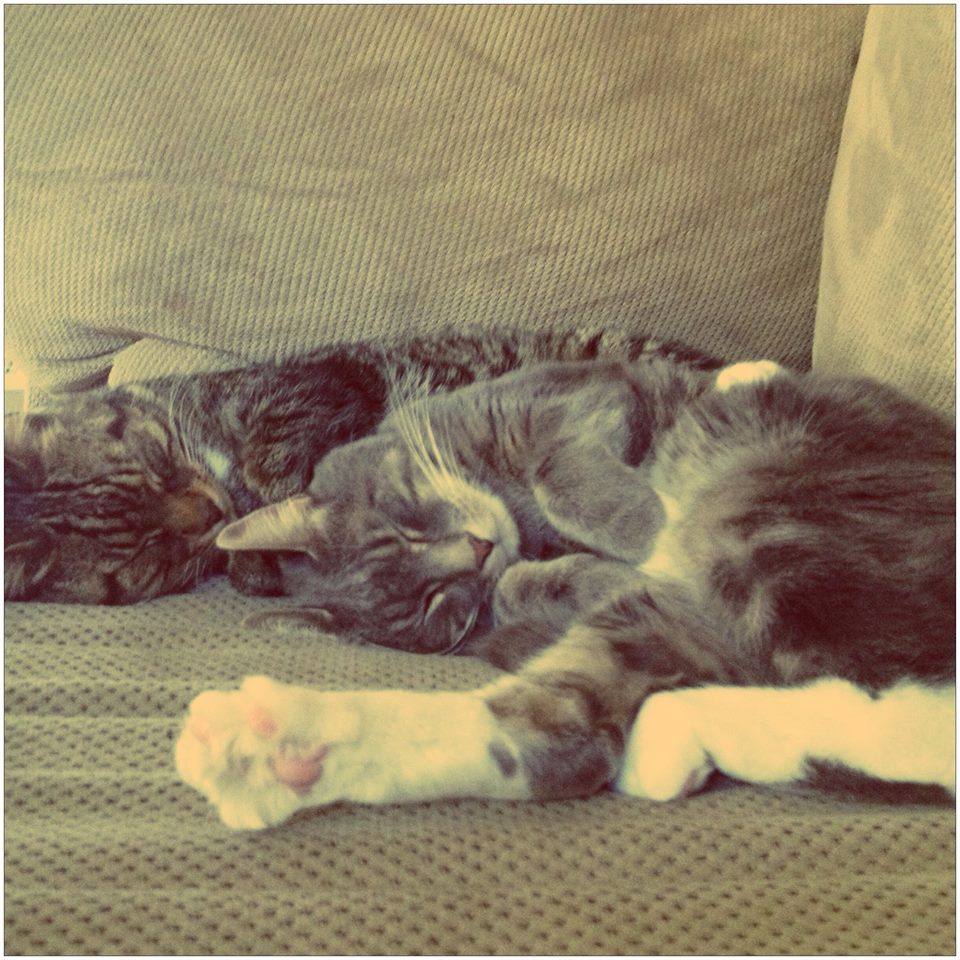 2. Buzz, by Hallie Lieberman. This fascinating work of narrative journalism focuses on the evolution of sex toys, and on the political ramifications of toys that were eventually marketed and sold for the purpose of pleasure. As someone whose sex writing career was born out of a random college internship at which she reviewed vibrators and other fun products, this read was right up my alley.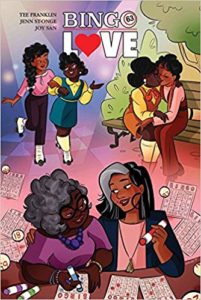 3. Bingo Love, by Tee Franklin and Jenn St-Onge. When I first picked up this comic, I didn't realize Franklin lived just a couple towns over from me. Knowing that now, I totally get a kick out of the sense of familiarity I feel when I enter the world of Bingo Love. But the real reason I'm including this comic here is because Franklin's story shattered my heart into a billion tiny pieces and made me sob, and St-Onge's artwork is to die for. The story is about two young women who meet at church bingo in 1963 and fall in love, only to be kept apart by both their families and by society. Decades later, they meet again. I don't want to reveal any more. This came out back in February, but Image just released a Jackpot Edition, containing a TON of bonus material.
4. The Unbeatable Squirrel Girl: Squirrel Meets World, by Shannon and Dean Hale. I was skeptical that I would enjoy my favorite superhero outside of her original comic form, but my buddy Ren convinced me that this middle-grade novel was worth a read. And she was so right. Despite having different writers, the sense of humor remained intact, and I was so tickled by having some of the chapters narrated by everyone's favorite squirrel, Tippy-Toe. On the whole: charming as heck.
5. Vibrator Nation, by Lynn Comella. Back in March, I wrote about how this book and the abovementioned Buzz made for a perfect pairing. Where Lieberman's book focuses on sex toys, Comella's is all about the rise of feminist sex toy stores and how they changed both women's lives and the adult industry. Reading this made me so nostalgic for the time when I was first discovering these sex shops for myself. P.S. Comella interviewed me for Forbes just the other month and just thinking about it makes me squee all over again.
6. Give Me Your Hand, by Megan Abbott. I love every damn thing Abbott writes, and her latest thriller is no different. While most of her previous books have focused on teen girls, Give Me Your Hand takes its two main protagonists back and forth between an early-in-life friendship and a later-in-life reunion, a reunion colored by a shocking disclosure from the past. Its explorations of friendship and ambition are fire.
7. Saga, by Brian K. Vaughan and Fiona Staples. I mentioned last year that the Saga series is a well-known gateway comic for people who think they don't like comics. Unsurprisingly, this space opera about two lovers from long-warring extraterrestrial races who are forced to flee the authorities from both sides as they struggle to care for their newborn daughter was one of the first comic series I got super into. This year, I read volumes 7–9, and the last one (the series is going on temporary hiatus) was just filled with heartbreak.
8. Ms. Marvel, by G. Willow Wilson and Adrian Alphona. I've already written about the latest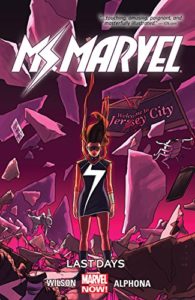 iteration of Ms. Marvel, a Muslim teenager from Jersey City who may or may not also be an Inhuman. This year, I finally got around to binge-reading volumes 3–9, and my love remains strong. Volume 4 in particular legit made me cry. This comic is about so much more than superhero-ing. It's about finding yourself and about the impossible balance between responsibility and everything else, between others' expectations of you and the expectations you carry for yourself, between duty to family and duty to community. WE ARE ALL KAMALA KHAN.
9. Heating & Cooling by Beth Ann Fennelly. I picked this one up while at Hippocamp, at a time when I was just starting to dabble in flash nonfiction. This collection of "micro-memoirs" is unlike any memoir I've read before. Each flash piece packs a delightful punch and, together, they provide a collage-like picture of a life well-lived.
10. I'll Be Gone in the Dark by Michelle McNamara. True crime is having a moment. And this posthumously-published work is up there with the best of them. About a long-running search for the Golden State Killer, McNamara weaves in elements of memoir by incorporating the personal tale of her attraction to true crime journalism, and to this crime in particular.
11. The Chronology of Water by Lidia Yuknavitch. Both raw and lyrical, it's impossible to place this memoir in a box. It's just so unlike anything else I've ever read before. Following the course of the author's troubled childhood, and her equally troubled young adulthood, the book made me a Yuknavitch convert for life. I also read and enjoyed Dora and The Small Backs of Children this year.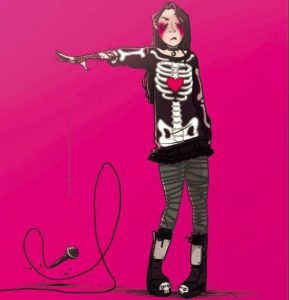 12. Giant Days by John Allison, Lissa Treiman, and Max Sarin. This year brought volumes 7 and 8 of this comic series, which follows a group of university students who are away from home for the first time and looking to reinvent themselves. Boom! Studios also released the standalone Early Registration, which gives readers a glimpse of the gang's early days at university together. The series continues to be delightful, and I continue to covet Esther de Groot's entire wardrobe.
13. The Unbeatable Squirrel Girl by Ryan North, Erica Henderson, and Rico Renzi. Another series I've been following for a couple years now (and arguably my favorite comic series in all the land), this year saw the release of volumes 7 through 9. In the latest volume, Henderson has been replaced by comic artist Derek Charm, but Henderson's strong and solid Squirrel Girl will always hold a special place in my heart. As I've mentioned in the past, this Marvel superhero with the powers of both squirrel and girl is notable for her positivity, her self-confidence, her empathy, and her zippy sense of humor. Even if you've never been into superheroes before, prepare to fall in love with this one. (P.S. Emily makes a cameo on a recent Letters page!)
14. An American Marriage by Tayari Jones. This book received a lot of buzz, and for good reason. This story of a newlywed couple torn apart when the husband is imprisoned for a crime he didn't commit left me with so many FEELINGS. Jones ably explores the nature of love and marriage and responsibility, and also comments subtly on the ways in which the justice system consistently fails people of color.
15. Not That Bad edited by Roxane Gay. I found myself referencing the title of this anthology a lot this year, especially when giving interviews to promote A Dirty Word. In the collection, writers give testimony about how they've been touched by rape culture. The title is brilliant in the way in which it references how so many of the contributors — and so many victims of sexual violence and/or harassment in general — tell themselves that the thing they experienced was not that bad. It's an important part of a larger conversation about how a thing does not have to be illegal in order to be wrong. This collection isn't easy to read, but it's important.
16. How to Be Safe by Tom McAllister. At its most basic level, How to Be Safe is about an English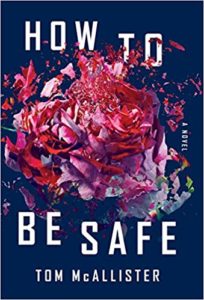 teacher who is suspended from her job and, in the aftermath, is mistakenly blamed for a school shooting. The police and the media quickly recant, but the damage is already done. And this is just the beginning of the book. As we journey on with the main protagonist, McAllister cleverly interrogates the ways in which sexism and gun violence intersect. A dark but fun read on a timely topic.
17. Beyond Birds & Bees by Bonnie J. Rough. As someone who writes a lot about sexuality education, Rough's book was a fascinating read. Weaving her personal story of living in Amsterdam with research and reportage on the Dutch approach to sex ed, readers are given an intriguing picture of a world in which cultural attitudes toward sex are very different. Man, I want to go to there.
18. Tell the Machine Goodnight by Katie Williams. I don't read a lot of sci-fi, but my interest was immediately piqued by the premise of this novel. Pearl has a job as a technician for a company that uses a happiness machine to give people personalized recommendations on how to achieve greater contentment. Her son, meanwhile, disapproves of the idea that we should rely on technology to tell us how to be happy. A fun read for fans of Black Mirror.
19. Calypso by David Sedaris. I've been a fan of Sedaris' humorous personal essays for years, but it had been a while. My overarching thought when reading Calypso? He's still got it. In his latest, Sedaris tackles some tough topics, including the death of one of his sisters, and the shift in the relationship he has with his aging father.
20. The Outsider by Stephen King. The past couple years have felt like The Era of Stephen King, thanks to a slew of new books, plus a shit-ton of film and TV adaptations (I hope you guys were watching Castle Rock). I didn't love everything King released, but this story about a terrible crime and the bizarre investigation that follows felt like a return to form.
21. You Need a Budget by Jesse Mecham. Yes, Jesse. Yes, I do need a budget. Over the years, I've racked up tens of thousands of dollars in credit card debt multiple times, one time leading to a personal essay that led to a radio appearance that led to a humiliating appearance on CNN during which some guest psychologist said that I was clearly trying to fill a hole in my soul. Promo spots showed me emptying out garbage bags filled with hats, with a voiceover declaring that I was tearing my family apart. Clearly, I was thisclose to a surprise appearance on Jerry Springer or something. After basically the entire staff of Book Riot raved about the awesomeness of the YNAB method, I finally read the book and, yes, it is awesome. Though my attempts to follow it sort of fell apart after I discovered that I was definitely spending more than I was making. A New Year's resolution in the making?
22. Infidel by Pornsak Pichetshote, Aaron Campbell, Jose Villarrubia, and Jeff Powell. About an American Muslim woman haunted by evil entities that seem to feed off xenophobia, Infidel's social message may seem in your face, but it actually contains many layers. When a full volume of this comic was released in October, I re-read the entire thing, marveling at the ways in which the story came together, oohing and ahhing over the gorgeous artwork, and just generally enjoying the deliciously creepy horror of it all. Infidel is the best horror comic I've read, hands down.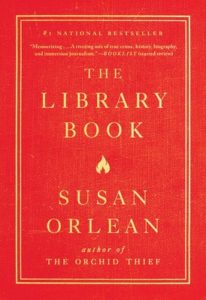 23. The Library Book by Susan Orlean. I've admired Orlean's works of immersive journalism since reading The Orchid Thief in my 20s and becoming obsessed with the entire genre. Her latest — a long time coming — is a love letter to libraries, but also so much more. Using the massive 1986 fire at the Los Angeles Public Library as a jumping off point, she explores selfless librarians and shared knowledge and the essential role of libraries in our communities in a sprawling work of heavily reported and researched genius. I was transfixed the entire time. Also, I picked up my copy at this past year's Book Expo America and I had her sign it and I told her she was amazing. Because she is. This was my favorite read of 2018.
24. Notes from My Captivity by Kathy Parks. I picked up this book on a whim and found the quirky tale to be delightful. The young protagonist of this story travels into the Siberian wilderness with her stepfather in order to debunk his theory that there is a family of hermits secretly living there. Then she is captured by the family she's convinced doesn't exist, and is forced to reevaluate everything.
25. Lumberjanes by Shannon Watters, Grace Ellis, Noelle Stevenson, Brooke Allen, and others. The comic that got me into comics in the first place still holds a place of honor on my pull list. Volumes 9 and 10 released this year, in addition to The Infernal Compass, a standalone graphic novel. For anyone who needs a refresher, this series follows a group of cabinmates at a summer camp for hardcore lady-types as they grapple with the supernatural forces at work in the woods.
26. Storycraft by Jack Hart. As a writer whose genre of choice is narrative nonfiction, I couldn't tear my eyes away from this how-to book from a former managing editor of the Oregonian. If you have any interest in producing narrative nonfiction that draws readers in, I highly recommend this book.
27. And Now We Have Everything by Meaghan O'Connell. This memoir about an unplanned pregnancy and the writer's experience of new motherhood that followed is more raw and honest than most of what you'll find in the mommyblog sphere. The chapter on post-baby sex alone made me feel I'd found a kindred spirit. Reading this was like finding the new mom support group of my dreams (albeit four years too late).
28. The Great Alone by Kristin Hannah. I was quickly pulled into this coming-of-age story in which a small family moves to the wilds of Alaska in order to start anew. Unfortunately, there are some things they can't leave behind, not least of which are the inner demons of the family's patriarch, a former POW. In this book-length fight for survival, the barren landscape isn't the most dangerous thing the young protagonist needs to fear.
29. Harbor Me by Jacqueline Woodson. I didn't expect to be hit so hard by a middle-grade novel, but here we are. Woodson is a consistent maker of literary magic, and her latest is no different. The book focuses on six students who are placed in a special class together, and who are encouraged to spend every afternoon just talking to each other. Over the course of the year, these kids open up to each other about the most difficult and confounding parts of their lives, eventually becoming a safe harbor to each other.
30. Neverworld Wake by Marisha Pessl. Several years ago, I had a heckuva lot of fun reading Pessl's creep-tastic Night Film. Her latest is just as much dark fun. About a group of friends connected by a terrible tragedy, each haunted by their own secrets, things get wacky when they learn that they're stuck in time, and can only escape if they make a very difficult decision.
31. The Adventure Zone: Here There Be Gerblins by Carey Pietsch, Clint McElroy, Griffin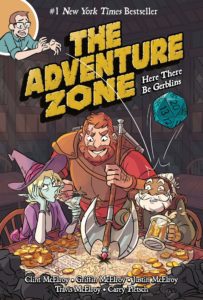 McElroy, Justin McElroy, and Travis McElroy. This year, I played D&D for the first — and probably last — time. As a socially anxious introvert, the game itself exhausted me. But I did enjoy the world-building and the choose your own adventure-ness of it all, and so I began reading comics built around D&D. This graphic novel based upon "The Adventure Zone," a popular comedy podcast that follows a D&D campaign, blows them all away, mostly because of its fantastic sense of humor. I found myself literally LOL-ing on every page. And it didn't hurt that the protagonists themselves were also gaming noobs. I eagerly await Volume 2.
32. Nancy Drew: The Case of the Cold Case by Kelly Thompson and Jenn St-Onge. I'm a huge fan of St-Onge's artwork. You may recognize her name from Bingo Love, way up near the top of this post. But fun fact: I also commissioned a piece of artwork from Jenn back when Kooshie passed away. You can see it here. ANYway. When I learned she was working on a graphic reboot of one of my favorite childhood series, I was pumped. And she and Thompson do not disappoint. This five-issue reboot kicked off in June, and I loved every second of it. I really dug how Thompson and St-Onge paired up to breathe new life into this gang of super-sleuths. Just pure fun, and I have my fingers crossed for a second arc. In the meantime, if you want to wait, the volume that collects all of these issues together is available at the end of February.
33. With the Fire on High by Elizabeth Acevedo. This book doesn't come out until May, but I have to mention it. I raved about her previous book — The Poet X — in last year's post, and her latest is just as good. With the same level of lyricism she brought to her last YA novel, Acevedo shares the story of a high school senior with big dreams of someday becoming a professional chef. Unfortunately, she's also a single mother, and feels pulled between these dreams and her responsibilities. Is it impossible to have both?
34. Fierce Femmes and Notorious Liars by Kai Cheng Thom. It's hard to describe this book. The cover looks like the result of a fever dream, and the contents are no different. At its most basic level, it's the coming of age story of a young Asian trans girl with a penchant for pathologically lying and a thirst for blood and violence. Add in a dash of magical realism and, well, I still haven't adequately described it. It's just something you have to experience for yourself.
35. Where'd You Go, Bernadette by Maria Semple. I can't believe it's been six years since this book first came out. At the time, I resisted the buzz because I tend to have little patience for epistolary novels. But to my surprise, I gulped this down in two days. This is about a family in crisis after its brilliant, misanthropic matriarch disappears into thin air.
What were your favorite reads this year?