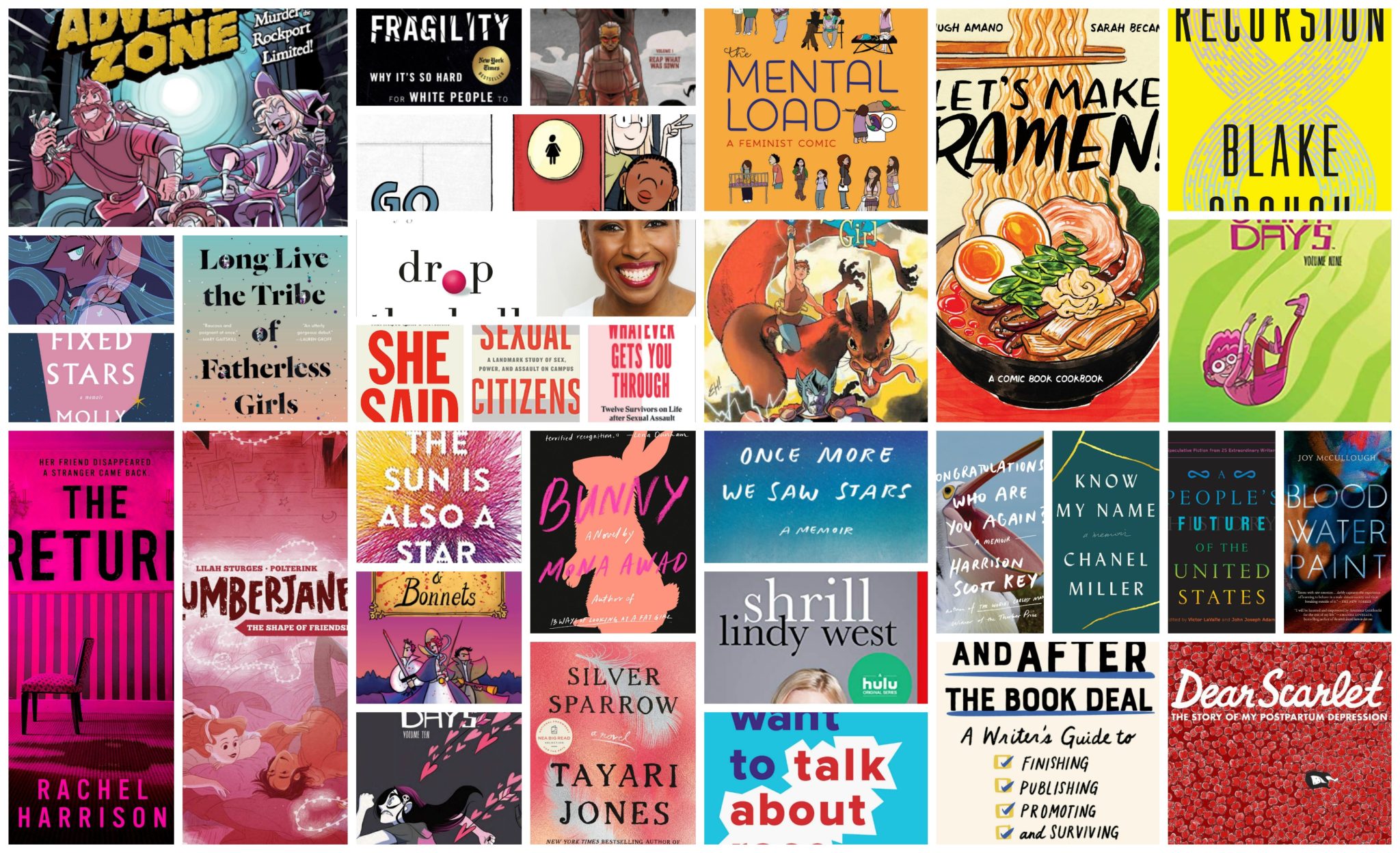 ---
While 2018 was all about surviving my book launch, this past year was all about figuring out what the hell I wanted to do next.
Feeling adrift, I started and abandoned numerous essays. I stopped pitching new articles. I cut back on my editing hours. I went to Martha's Vineyard for a week-long residency, where I wrote about five different versions of the same book proposal, finally putting it to the side.
Eventually, I became more comfortable with not pushing so hard. I considered non-writing projects. And I slowed down my work and allowed myself to goof off for the first time in forever.
For me, this meant getting back to a regular yoga practice. Joining a women's choir. Learning to play the ukulele.
And, of course, reading more books.
As always, this isn't a list of the best books that came out this year. Rather, it's a list of the books I most enjoyed reading, whether backlist titles, new buzzy books, or advanced reading copies (ARCs) of titles that have yet to come out.
Read on for my 32 favorite reads of 2018.
(CW: Because I write about sexuality for a living, a lot of the books I read grapple with themes of sexual violence.)
1. Congratulations, Who Are You Again?, by Harrison Scott Key. This hilarious memoir about pinpointing and eventually achieving your dreams doesn't pull any punches. In Key's characteristic comic way, he lays out the ugly truth — the immense letdown — of what it's like to finally do or be or have the thing you've been wanting your entire life. Sure, it's not all bad. In fact, it's often amazing. But as someone who was still stuck in the muck of post-publication malaise when I read this book, I appreciated Key's honesty around the not-so-great bits.
2. The Sun is Also a Star by Nicola Yoon. I picked this one up after being thoroughly charmed by the film. Yoon's YA novel tackles the immigrant experience, albeit wrapped up in romcom packaging. I legit cried over the impossibility of the protagonists' love. I… am super emotional.
3. The Mental Load by Emma. A friend sent me the online comic this collection is named after and I was blown away by how perfectly it explained the root of so many of the frustrations I carry as a wife and a mother and a woman overwhelmed by the endless need of others. The book also contains other comics with a similar feminist bent and sometimes I just want to hold it up and be like, "THIS. This is what I am so angry about. Now do you understand??"
4./5. Giant Days Volumes 9 and 10 by John Allison, Jenna Ayoub, Liz Fleming, Whitney Cogar, and Max Sarin. I have never not found this series delightful, which is why it tends to make it onto my list every year. For those who need a refresher, it's about three women who meet at university and become fast friends. I never get tired of this ensemble series, and Esther de Groot remains my style icon.
6. Bunny by Mona Awad. Awad's previous novel — 13 Ways of Looking at a Fat Girl — made it onto my 2016 list. Her latest is even darker, in a "what the fuck am I reading?" kind of way. About a student who feels out of place in her MFA program, ostracized by the clique-ish "bunnies," the book quickly veers into supernatural horror and — honestly? — I'm having the darndest time trying to describe it so maybe just read it for yourself.
7. Blood Water Paint by Joy McCullough. In this YA novel — written in gorgeous, affecting verse — McCullough gives us a protagonist we can't help but root for. Seventeen-year-old Artemesia Gentileschi is one of the most talented painters in Rome but, because it is 1610, she lives in obscurity, her father passing off her work as his own. These constraints on their own are unbearable, but when she is raped, she comes to know even more deeply the futility of being a woman who wants to live her life out loud.
8. Whatever Gets You Through edited by Stacey May Fowles and Jen Sookfong Lee. When I picked up an ARC of this book, I expected essays on the inspiring and transformative power of kickboxing classes, trauma-informed yoga, and the like. And there is a bit of that, with some writers sharing how certain activities have allowed them to muscle through their sexual trauma. But what makes this book essential reading are pieces from writers such as Kai Cheng Thom and Gwen Benaway that interrogate the limitations of our language around sexual violence and our assumptions about how a victim should be, and that provide convincing arguments for silence and anger as the best ways to protect and love oneself.
9. A People's Future of the United States edited by Victor LaValle and John Joseph Adams. I had been looking forward to this one for a while, as I consider LaValle to be a paragon of good taste and high-quality writing. In this collection, he and Adams bring together 25 works of speculative fiction that envision new futures for America. I was stoked to see pieces from Gabby Rivera, Kai Cheng Thom, G. Willow Wilson, and other favorites.
10. Drop the Ball by Tiffany Dufu. I love to read books that get me riled up about all the metaphorical balls I'm juggling. A fellow Book Rioter recommended this one to me and I really dug how Dufu preached the gospel of reevaluating expectations and embracing imperfection. Um… not that I've gotten any better at doing so.
11. Once More We Saw Stars by Jayson Greene. This memoir — about the loss of a child and the all-consuming grief that results — is difficult to get through. But make it through this gorgeously written book and you'll be rewarded with an account of how one moves forward in the face of senseless tragedy. Be warned, though. As a parent, I wept my way through this entire book, and you'll likely find yourself doing the same.
12. Long Live the Tribe of Fatherless Girls by T Kira Madden. After being blown away by an online excerpt from this book, I picked up a copy of it in hardcover, which is a thing I rarely do. But I just couldn't wait. This coming-of-age-memoir — which touches upon sexuality, desire, privilege, trauma, and more — is gorgeously lyrical and affecting.
13. Farmhand, Volume 1: Reap What Was Sown by Rob Guillory and Taylor Wells. I've felt lost since the endings of such fantastic horror comics as Victor LaValle's Destroyer, Infidel, and Wytches. Then I stumbled upon Farmhand in a catalog. This comic is about a farmer who grows human organs, and about the secrets he's hiding. But beyond creepy corporate espionage, the heart of the story lies with the family caught in his web of secrecy. The story is kooky and fun, and so is the artwork. The second volume was a good time, too.
14. Recursion by Blake Crouch. I'm a fan of books about time travel and alternate timelines, so this book was pure fun. It opens with the beginnings of an epidemic that drives its victims mad with memories of a life they never lived. But it turns out that the cause of these memory glitches is no pathogen. I don't want to reveal more…
15. The Adventure Zone: Murder on the Rockport Limited! by Clint McElroy, Griffin McElroy, Justin McElroy, Travis McElroy, and Carey Pietsch. No graphic novel has brought me as much joy as the Adventure Zone series… and that's saying a lot because Squirrel Girl exists. As a reminder, this graphic novel originated as a popular comedy podcast that follows along on a goofy D&D campaign. In this second installment of the graphic novel series, our party of adventurers is dispatched to solve a railroad murder mystery. Hijinks ensue. The cherry on top? I had the opportunity to interview some of the team behind the books, plus I attended a panel at New York Comic-Con (NYCC) that was SO MUCH FUN. LOLs on every page, you guys.
16. White Fragility by Robin DiAngelo. I have not always been the most aware when it comes to my own privilege. But in recent years, I've begun to learn more about cultural appropriation, white privilege, and inherent bias. This has led me to make some changes in my life. But these changes have earned me push-back from those who are close to me. Every time I open my mouth in an attempt to explain, however, they get defensive, and I get…sputtery. This book — about why white people struggle to discuss racism and how this resistance only perpetuates various structural inequities — is the key (I hope!) to having more constructive conversations.
17. Shrill by Lindy West. Within the first few pages of West's memoir, she writes that "I treated my reproductive system like it was The Nothing from The Neverending Story." I was immediately hooked. And I never stopped loving this hilarious book, which tackles issues of body image, rape culture, online harassment, and more.
18. Before and After the Book Deal by Courtney Maum. I read an egalley of this one after my book had already come out — but it still contained a wealth of information for someone who was in the throes of, "Welp. What the hell do I do with my life now?" It's now firmly affixed on the "recommended books" list I hand out to writers when I teach workshops and present at conferences.
19. The Return by Rachel Harrison. When the folks at Penguin Random House asked me to moderate a book club for this horror novel at NYCC, I said yes — and then immediately panicked because what if I didn't enjoy the book!? I needn't have worried. This book — about a woman who goes missing and returns two years later, somehow changed — super creeped me out, not least because it is set in an isolated hotel and I read it while staying alone in a hotel. In addition to the horrors, you can also look forward to the uncomfortably authentic commentary on female friendships.
20. Silver Sparrow by Tayari Jones. Thanks to An American Marriage, I already knew Jones excelled at spinning tales of difficult situations in which you're never quite sure who to root for. In this earlier novel, Jones shares the story of a man with two families, and the two teenage girls caught in the middle.
21. Witchy by Ariel Slamet Ries. Of all the comics Carey Pietsch recommended to me during our interview (see the Adventure Zone entry up above), this was the one that was most compelling to me. This YA graphic novel, which was originally a webcomic, is about a young witch who takes a stand against the institution that was complicit in her father's death. It's a fun read and I hope there are more books to come.
22. Bloodlust & Bonnets by Emily McGovern. This graphic novel — about a debutante desperate for adventure, a narcissistic poet, and a bounty hunter who team up against a vampire cult — was random and ridiculous in the best possible way. I loved how McGovern poked fun at romantic tropes and gender stereotypes, letting the story spin out with a dry sense of humor that had me snort-laughing on every page.
23. The Unbeatable Squirrel Girl: Call Your Squirrelfriend by Ryan North, Derek Charm, and Rico Renzi. I am currently in mourning because, after the next volume of this series, North's Squirrel Girl arc is officially coming to an end. 😭 The Unbeatable Squirrel Girl is the first comic I became OBSESSED with, both because of its madcap sense of humor and its underlying positive messages. This particular installment (volume 11) contains an amazing team-up in the form of Squirrel Girl and Ratatoskr and I loved it!
24. Dear Scarlet by Teresa Wong. This graphic memoir had been on my TBR for a while when I spotted it at the book sale table at HippoCamp. Later that evening, I learned that Wong herself would be reading an excerpt from her book, which turned into a full-on ukulele performance that made me cry and what was even happening?? The book itself? It's also a tearjerker, and I appreciated its honesty around Wong's experience with postpartum depression.
25. Know My Name by Chanel Miller. I first borrowed this book from the library, but when I learned I would be receiving another copy through my Feminist Book Club subscription, I was thrilled. I'd known within just a few pages that I needed my own copy of this book, that I would want to dog-ear pages and underline passages and recommend it to everyone I knew. Chanel Miller, formerly known as Emily Doe, is the woman who was sexually assaulted by Stanford student Brock Turner in 2015. Her victim impact statement later went viral. Her memoir is the answer to all of the questions others have ever had about why sexual assault survivors don't report. The bulk of the book is taken up by both the immediate and the ongoing aftermath of Miller's assault. We learn what she has to go through in the pursuit of "justice," and we learn how that one night — and the ensuing criminal justice process — affected her. Miller's book also interrogates the lie of the "perfect victim," forcing readers to see Miller as a whole person, one who, despite her faults, was absolutely not at fault that one terrible night.
26. Sexual Citizens by Jennifer S. Hirsch and Shamus Khan. This book is built around a study on campus sexual assault conducted by two professors at Columbia University. It brilliantly parses out the complexity of the circumstances that surround and enable sexual assault, showing why single-pronged "solutions" like affirmative consent education are not enough. In addition, it moves beyond the "good guy/predator" dichotomy in a way that could perhaps someday lead to prevention programs that are significantly more effective. There's a lot to appreciate in this meaty text, from the exhaustive research to the interview snippets that give readers a glimpse of what students are really thinking and experiencing.
27. So You Want to Talk About Race by Ijeoma Oluo. I've been a fan of Oluo's since her days as Editor-at-Large for The Establishment (RIP), so this one had been on my TBR for a while. In it, Oluo guides readers through subjects like intersectionality, police brutality, and affirmative action, showing how systemic racism has permeated every aspect of our culture. A great primer for those who struggle with conversations around race, and a good pairing with White Fragility (see above).
28. She Said by Jodi Kantor and Megan Twohey. She Said lays out how Kantor and Twohey broke the Harvey Weinstein story, igniting the #MeToo movement. It is at once a master class in investigative journalism and a chilling account of how powerful men silence their victims. Riveting.
29. Let's Make Ramen! by Hugh Amano and Sarah Becan. This may be the first time a cookbook has made it onto my "favorite reads" list. I spotted this beauty when out at a book event at Books Are Magic in Brooklyn. I knew immediately that I had to have it. Let's Make Ramen! is not your traditional cookbook. Rather, it's a comic book cookbook, filled with a charmingly illustrated history of ramen plus a ton of recipes for all of the building blocks you need for a delicious ramen dish. I dog-eared just about every page in this book and I cannot wait to make my first bowl of shoyu ramen.
30. Go with the Flow by Lily Williams and Karen Schneemann. I have an entire shelf's worth of sex-ed books I'm saving for my daughter to read at various stages of her life, all the way through to her late teens. So I was excited when the folks at First Second sent me this graphic novel, about a group of high school sophomores who stage a "menstruation revolution" in response to the lack of resources at their school. I am for sure saving this one for Emily to read when she's older.
31. The Fixed Stars by Molly Wizenberg. I became a fan of Wizenberg's through Orangette, her now-defunct food blog (though the archives are still there). It is from her that I got the recipe for applesauce cake, which is always a hit when I make it. I ate up her first two memoirs — A Homemade Life and Delancey — which centered upon her, her husband, and the role of food in their lives. Her latest (not out until May) is not about food at all but, rather, is about the crumbling of her marriage when, one day, she finds herself drawn to a female attorney and begins to question her sexuality. Gorgeously written.
32. Lumberjanes: The Shape of Friendship by Lilah Sturges and polterink. The first volume of the Lumberjanes series is the first comic I ever purchased (alongside the first volume of Bitch Planet). It's been on my pull list ever since, though the most recent volumes haven't thrilled me as much as the earlier books. But this standalone graphic novel charmed the hell out of me and had me giggling every few pages. For those not in the know, the Lumberjanes are a group of female scouts whose camp happens to be in the middle of a wood filled with magical creatures. The common thread is typically friendship and the series falls squarely into my wheelhouse of kick-ass lady gangs kicking ass.
Have any book recommendations for me? YES PLEASE LEAVE THEM IN THE COMMENTS.
Booooooooksssss…